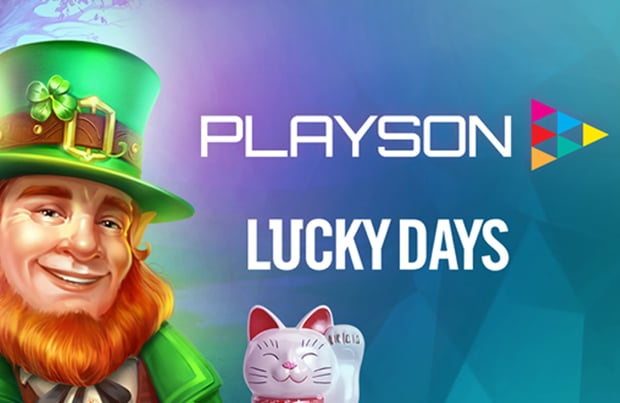 Playson spread into Europe with a new casino deal

Jonas Riis Vestergaard

Published 01/12-2019
Playson have continued their desire to expand into Europe by signing a new deal with Lucky Days Casino.
This new deal will see Playson and the Lucky Days owner, Raging Rhino, begin working together. That means that Playson titles will be available to players at Lucky Days Casino in the near future.
Players at Lucky Days will have access to the full roster of slot titles that Playson have to offer and this deal includes all of their newest releases as well as the Timeless Fruit Slots games.
Complete roster availability
Lucky Days Casino is actually one of the newer brands on the market. However, there is a great deal of experience behind it as the people running it have been in the industry for more than 40 years between them. This new deal with Playson means that they will get a good range of games for their players and Playson are able to be in with a new, up and coming brand.
Wide range of titles on offer
Playson will be joining some of the biggest names in the industry at Lucky Days Casino. This shows that they are making the right decision offering their slot titles along with the other genres of games that are there. They will be alongside Microgaming, NetEnt and many other big names.
This new deal will allow Playson to make inroads into German markets. This comes not long after they made their first steps into the Romanian market. Overall, it fits in line with the Playson method of European growth.
The head of Business Development for Playson commented that they felt this new deal was in line with their marketing and expansion strategy. Because Lucky Days Casino is a new operator that has earned a good reputation early on in their lifespan, they expect this new move will give them a lot of exposure. Playson have always looked to strengthen their position in German regions and feel that this new deal will be another great deal for them.
High quality titles released
The CPO for Lucky Days was also happy about the new deal being signed. They announced that the new deal with Playson was perfect for them. Because they have a reputation for bringing in the most innovative titles for their casino, this new deal with Playson was perfect and would fit in with their roster perfectly. They expect the new games to be popular with their customers and that both brands will see the benefit of the deal.
Showing off slots at SiGMA
Because Playson have released a number of titles recently to add to their total portfolio they have been in demand in a lot of places. They intend to show off their wares to the iGaming industry at the SiGMA show which is being held in Malta at the end of November. Here they will be showing their new titles as well as giving players a look at their full roster of games.