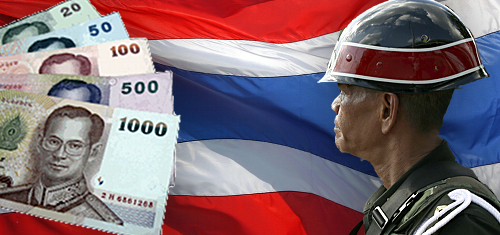 Police in Thailand continue to tighten the screw on illegal gambling following the World Cup

Mathias Jensen

Published 29/07-2018
Last week, Chinese and Thai police broke up another of Thailand's illegal online gambling organizations. Working together in a joint operation, the Chinese and Thai police made 34 arrests, mostly of Chinese nationals. The arrestees face charges of participating in an illegal financial operation and illegal gambling.
During a press conference at Royal Thai Police headquarters, Police Major General Surachet Hakpal, Thailand's Deputy Tourism Police Chief, provided additional details about this latest clamp down on the country's illegal gambling gangs. The police chief stated that, with the help of China's police service, 34 individuals, including 24 Chinese nationals, were arrested.
In the raid, 14 areas in Phuket, Chon Buri, Nonthaburi and Bangkok were raided. Of the people arrested, 19 formed part of call center operations, and of these, 17 were Chinese nationals, with one hailing from Myanmar and another from Vanuatu.
A further 15 people are being held on charges of having ties to online gambling rings, of which nine are from China, three from northern Thailand and three from Myanmar.
The majority of those arrested were operating out of Phuket, which has frown into an important tech hub in Thailand. Police Major General Surachet stated that the police had utilized WeChat, a popular messaging app, to target the largely Chinese suspects.
World Cup leads to record high in arrests linked to gambling
In Thailand, soccer and betting on soccer matches is extremely popular. This is despite the fact that Thailand's gambling laws explicitly prohibit betting on the game. To prepare for the anticipated rise in illegal betting during the recent World Cup, the Thai police service established a center dedicated to targeting illegal gambling activity in the build-up to and throughout the 2018 World Cup in Russia.
According to police officers, gambling-related arrests during this World Cup were up 300% from arrests made during the 2014 World Cup held in Brazil. According to Thai police, three minors were among those arrested when up to 15,007 were detained from May 1 to July 15, 2018. Also, 166 gambling ticket runners and 695 illegal gambling operators were arrested, with assets worth a total of 51.2 million Thai Baht being seized.
The largest number of gamblers using illegal gambling operators to wager on the World Cup were arrested before and during the final between Croatia and France. Police have disclosed that 1,000 individuals were detained due to alleged illegal gambling activity related to that single match.
In contrast, prior to and during the 2014 World Cup, just 4,679 gamblers, 258 illegal sports betting operators and 127 ticket runners were arrested, while a relatively small 12.4 million in cash (in Thai Baht) was seized in raids related to gambling activity.