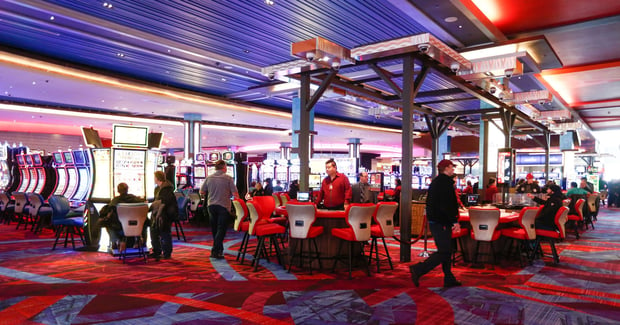 Proposed Law Could Change Betting Laws in NY

Mathias Jensen

Published 17/03-2019
Sports betting has been tightly controlled in New York for many decades, but that could be set for a big change. A proposed new law could allow betting to take place at venues like Yankee Stadium, where tens of thousands of fans flock every single matchday to watch the New York Yankees play.
Democrat Gary Pretlow, who announced this legislation last week, is planning to make amendments that will allow on-site gambling to take place. Unless there is strong opposition to this change then there's a good chance it will go through.
"A Great Idea"
The goal for Pretlow is to affiliate with the venues, who he claims have already expressed an interest in the partnership. He said that he has already spoken with representatives from Madison Square Garden, who apparently called it a "great idea".
Another Democrat chimed in on the matter, noting that if they were going to do it right then it would need to be done in a very "methodical manner", suggesting that it should be rolled out steadily over the course of several years. He noted that the goal was to "respect the integrity of the sport", rolling it out slowly to major venues and then into stadiums.
And there are many stadiums in New York for them to target, including some of the biggest, oldest and best known stadiums in the United States.
A Big Move
The sports betting landscape is sparse in the United States right now so a move like the aforementioned would be huge for New York and for the brands that take advantage of it. This news also comes off the back of similar moves in other states, including D.C., which gave final approval for legal sports betting at the end of 2018 and followed this up with a law in January 2019 that confirmed the new rule.
This law, the Sports Wagering Lottery Amendment Act of 2018, meant that D.C. became the first state to authorize sports betting outside of casinos. It means that establishments like arenas, stadiums and even restaurants will be allowed to offer sports betting facilities, and punters can also use a mobile app to place their bet.
Arena-based sports betting facilities just need to pay a license fee of a quarter of a million dollars, and this will cover them for 5 years. Restaurants and other private establishments need to fork-out $5,000 for a two-year license, a decidedly smaller fee to account for the fact that they appeal to a considerably smaller audience and are likely to generate much less money.
Mobiles and New Jersey
While mobile gambling may be legal in D.C. it is highly unlikely to be legal in New York. It has been said that an amendment to the law will be needed for this to happen and if such an amendment was made it likely wouldn't be accepted. Only time will tell on this matter though and if the legislation passes then we could see the same thing happen for mobile betting.
New York senators have also claimed that they are going to do things "bigger and better" than their neighborgs New Jersey, who have generated large sums of money through race betting and casino betting and also pull-in over $300 million through mobile gambing.