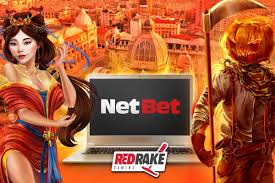 Red Rake and Netbet.ro sign a deal

Mathias Jensen

Published 26/09-2019
Red Rake Gaming and Netbet.ro have signed a deal that will see them enter into a partnership. This will see Red Rake Gaming offering their games to the Romanian casino which will be their first foray into the market. This comes after they signed a deal with Microgame to offer a similar service in Italy.
Red Rake has released a statement saying that they went with Netbet.ro for the partnership because it would allow the smoothest entrance into the new market. It means that their casino games will be seen by new players for the first time which will enhance their product name.
Superb games
Red Rake Gaming already chose a quality operator within the Romanian market due to the focus on quality that Netbet have taken. It means that the high-quality games that Red Rake offer to players shouldn't look out of place within their current portfolio.
Red Rake Gaming attempt to create high-end casino games that stand out from other games on the market. As such they feel that their roster of games will be at home within Netbet.ro. This is because they too have attempted to focus more on quality than quantity and have tried to stand out from other casino operators on the market.
Growing very quickly
Red Rake offered a press release that commented on how happy they were with the new deal. Because Netbet is a company who they have worked with in the past, this new deal with their Romanian arm should help to cement the partnership in the long term. They are also looking forward to providing their existing roster of high-quality games to Romanian players as well as introducing new titles to the market through their regular new releases.
High levels of popularity
Netbet offered a similar sentiment in their press release. They felt that because Red Rake Gaming titles have always been popular with their players in other geographies, the Romanian players will be in for a treat. The level of innovation and engagement that Red Rake games offer is something fresh on the market and they always attempt to create enjoyable features. This adds to the number of areas that Red Rake of currently live in and should help to make both Netbet and Red Rake bigger names within the industry.
Moving into Italy
The deal that Red Rake has signed with Microgame is also one that is expected to help them to continue their current pattern of growth. Microgame is seen as the leading API provider within Italy and is expected to make Red Rake games more accessible to Italian casino providers which will, in turn, increase the number of potential players they will have.