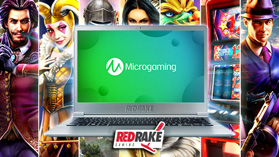 Red Rake Gaming continue growth after signing deal with Microgaming

Jonas Riis Vestergaard

Published 26/12-2019
Red Rake Gaming have signed a new deal with Microgaming. This will see the range of video slots and bingo titles become available on the Microgaming aggregate platform.
Red Rake Gaming create their products with the aim of providing players with an innovative and enjoyable experience. This comes through their dedication to creating unique titles with features that tread new ground.
There are a lot of titles available through Red Rake Gaming and this will all be available through Microgaming over the next year. Some of their titles have grabbed the headlines this year with Bonnie and Clyde in particular breaking out to be a smash hit.
Continued growth
This new deal is exactly in line with what Red Rake Gaming have been doing over the past year. They have been trying to increase their market share across a number of different markets in order to keep growing at a steady rate.
The MD for Red Rake Gaming commented that they felt the new deal was perfect for their current expansion strategy. With Microgaming positioned as one of the leaders within the industry it made perfect sense to partner up with them. This deal would not just give them the opportunity to grow their brand in markets where they already have a foothold, but it would also allow them to spread out into new markets where they aren't currently available. Red Rake are hoping that this deal will lead to a long and prosperous partnership.
A director at Microgaming also had similar to say. He felt that with Microgaming trying to cement their position as the market leader then bringing in a high quality developer like Red Rake Gaming would be very beneficial to them. This means that their current roster of games, which is already highly impressive, would be supplemented by the well received and popular titles that Red Rake have under their umbrella. They were also happy to be giving Red Rake the opportunity to compete in new markets where they hadn't been before.
New release from Red Rake
The deal comes just after Red Rake announced their latest release, a slot Roulette hybrid entitled Twin Harlequin. They have also signed a deal with ORYX recently to add to this new deal.
Growth for Microgaming
Microgaming haven't been letting the grass grow under their feet either. They have recently brought in another developer to work under their umbrella. Alchemy Gaming. On top of this, there are also four new slots coming from them, more table games and Mega Moolah has paid out another huge prize to a player in the UK.