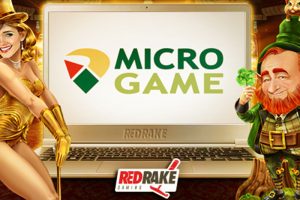 Red Rake Gaming sign a deal with Microgame

Mathias Jensen

Published 04/10-2019
Red Rake Gaming have signed a deal with the top casino platform provider in Italy, Microgame. Not to be confused with the software provider Microgaming, Microgame offer an aggregate system to allow games to be distributed to a number of different online casinos.
Red Rake Gaming feel that this deal will allow them to increase their market share in Italy while also improving their brand recognition. The ability to have their games seen by a much larger number of players is something that they are very happy about.
Signing a deal
This will see the large portfolio that Red Rake Gaming have put together be offered through the Microgame platform, which is seen as the top platform in the Italian market. It will see RRG titles become available to a large number of different Italian casino operators through the signing of this single agreement. This is the latest step that Red Rake have taken in pushing their titles to different regulated markets across Central and Eastern Europe.
Signing sensible deals
The deal is seen as a strategic one by Red Rake Gaming . They feel that it will serve them better in the long term rather than signing multiple deals with different operators. Microgaming already have deals in place with more than 25 different online casino operators, this means that they instantly gain access to all of those casinos as well. Getting a foothold in as many regulated markets as possible is the current business model for Red Rake Gaming and so this deal makes a lot of sense for them.
Taking steps forwards
Red Rake Gaming made a statement in the press release saying that they feel the new deal is a vital step towards their aim of having a presence in all regulated markets. Due to the fact that Microgame offer access to a range of different operators, it allows them the ability to instantly get access to a large share of the market. They are hoping that the deal will remain in place for a long time and lead to a long partnership.
Working together seamlessly
Microgame said that they were also happy with the new deal. Their aim is to add as much new and high-quality content to their platform as they can. Red Rake Gaming allows them to do this very easily and will allow both companies to increase their market share of the Italian market.
Red Rake making more deals
Red Rake have also signed a deal with OMEGA Systems. This will see all of the titles that they have to offer being made available to all partners who use the OMEGA Systems platform. This includes their most popular titles and their new releases.