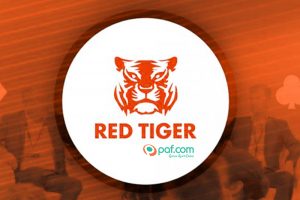 Red Tiger and Paf sign a new deal

Mathias Jensen

Published 27/08-2019
After releasing a game recently, Red Tiger Gaming has signed a new deal with Paf. This puts the two companies in a position to increase their exposure within the Finnish market.
This will allow Red Tiger Gaming to start providing their top of the range slots in Finland through the casino that Paf operate.
The new agreement will allow Paf to start offering the most popular casino games of the Red Tiger Gaming portfolio to players. On top of this, Red Tiger Gaming will also start developing new titles to be played at Paf. Part of the agreement will also give Paf access to Pirates' Plenty which is the latest top-level release from Red Tiger Gaming .
Synergy between the two companies
After signing this new landmark deal, Red Tiger Gaming released a statement expressing how happy they were at the deal. They let their customers know that part of the reason they decided to sign with Paf was because of their dedication to acting in a responsible manner towards their customers. Because they have a large range of licences in a number of markets, it means that Paf and Red Tiger Gaming will be able to extend their own fair gaming ideals around Europe.
Taking forward steps
Paf was also just as effusive with their happiness for the deal. They released a statement that let all of their customers know that they were excited about Red Tiger Gaming bringing their high-end roster of games to their casino.
Government links
Created in 1966 in Finland, Paf are owned and operated by the regional government. They have a business aim of creating profit that is to be used to benefit the country as a whole. Because of this, they generally tend to use games that they have created themselves. They have their own games studio inside of their company to help facilitate their own titles. They also have a range of offices around Europe in order to help their constant growth.
Prizes every day
Red Tiger Gaming also has some additional good news on top of its new deal with Paf. The Daily Drop Jackpot that they've been running has been a massive success. After an April, launch they have already paid out well over £2 million in prizes. This promotion is available on every title that they run, meaning that anyone who plays a Red Tiger Gaming game has the opportunity to win an additional bonus outside of their standard winnings.