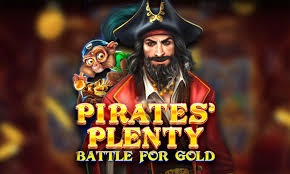 Red Tiger release Pirates' Plenty: Battle For Gold to make 100 not out

Mathias Jensen

Published 07/09-2019
Red Tiger Gaming have kept up their incredible pace of releasing games by releasing their 100th title this month. The newest addition to their roster is the sequel to Pirates' Plenty: The Sunken Treasure, with the new game having the subtitle Battle for Gold.
What really sets the latest video slot game in the Pirates' Plenty series apart from other titles is the varying paylines that are on offer. With between 20 and 30 paylines available it's a game that should be able to provide players with plenty of intense moments.
Plenty of bonuses
Pirates' Play: Battle for Gold includes a whole host of new features that are designed to grab players' attention right away. The symbols are all based around the theme of pirates and the graphics are some of the best on the market. Overall, it's everything that you would expect from a Red Tiger game, especially with it being their 100th release.
Massive prizes on offer
There is a treasure map included within the game too, really giving it a pirate feel. When you manage to complete the map you will be given the chance to unlock a fourth row which is completely wild. This gives the chance to win the maximum prize of over 5,000 times your wager. There are also a range of extra bonuses like additional spins and sticky wilds to make it even easier for you to win big.
Immersive gameplay
The latest release has been fully optimised to be played on mobile devices. It includes a highly immersive experience with the way that the reels simulate being on a pirate ship. Players will be close to getting sea sick the game is so immersive. The incredible range of features also makes sure that this is a game that players will be glued to from the moment they start playing.
Releasing a landmark title
Because the first game in the Pirates' Plenty series was such a success, Red Tiger Gaming felt that celebrating their 100th title with a sequel was the best move for them. In a statement that they released upon the announcement of the new game, they said that they were delighted to be releasing such a top title as their landmark release. Because it was a sequel to such a popular casino game it had a lot to live up to and Red Tiger Gaming feel that they have managed to deliver the quality of game that was expected of them.
The latest game in the Red Tiger catalogue is optimised for a number of different platforms, including desktop and mobile. On top of this, Red Tiger Gaming have also made the game compatible with the new management features that they have created. By implementing this feature it means that casino operators will be able to cater the game experience in line with their own promotions with minimal effort.
Moving to central Europe
The release of Red Tiger Gaming's 100th title comes not long after they made their first appearance in Switzerland. By signing a deal with Jackpots.ch, Red Tiger Gaming will see their games appear at one of the top casinos in the country.