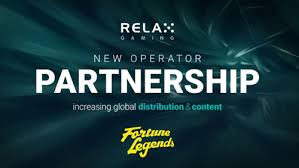 Relax Gaming and Fortune Legends sign a partnership agreement

Jonas Riis Vestergaard

Published 03/02-2020
Relax Gaming has added to its potential market coverage with a new deal that will see its titles become available to Fortune Legends. This will cover both titles by itself and partner companies under its umbrella.
The new deal will allow Fortune Legends access to the entire roster of games that Relax Gaming has put together. Both through its own software developments and through the aggregation platform that it has used to curate a large number of different casino games.
Increasing influence
The new agreement will allow Fortune Legends to get access to some top titles from other software developers as well. The most prominent of which is Kalamba Games, who have a deal in place to appear on the Relax Gaming aggregation platform.
Fortune Legends has been operating for two years and was set up to create an online casino that was easy for customers to understand. It has no complications in place in terms of bonuses, wagering requirements or extra fees. All of this is to make it easy for customers to use without having to wonder what they need to do in order to gain access to winnings.
What Fortune Legends does offer is a 0.5% cashback for turnover on almost every single slot it features. This makes it not just an easy to understand casino but a generous one as well.
Comments from both sides
The CCO for Relax Gaming put out a press release that offered his insights into the new deal. He said that he was happy to have signed a deal with Fortune Legends who he sees as one of the biggest new casino brands in the iGaming industry. This new deal will allow the customers at Fortune Legends to access a wide range of video slots that will significantly improve the current titles that are on offer.
Fortune Legends also had similar sentiment to express after the new deal was signed. The company said that they were very happy to have signed a deal with Relax Gaming as the range of high quality titles that it offers would be superb for customers at Fortune Legends. On top of that the linking up with cashback from spins would also go down well with players.
Lots of slots on offer
Relax has been working hard over the last year to increase the number of providers and the standard of titles that are available through its aggregation platform. This has come through signing new deals with new providers.
It has also been creating new titles of its own to add to what is available. This ensures that 2020 is likely to be a big year for Relax Gaming.
One of the best things about online casinos are the bonuses you can get, especially when it is a No deposit Bonus where you can play without losing anything, If you want to find a great No deposit Bonus, then you should take a look at our No deposit bonuses from our favorite casinos here!