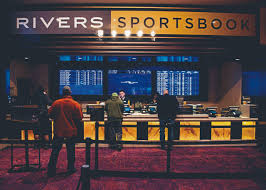 Rivers Casino launches sportsbook

Mathias Jensen

Published 09/08-2019
After new legislation has come into effect, New York have allowed for sportsbooks to be based out of land-based casinos. On this news, Rivers Casino have become the first to announce that they will be operating their own sportsbook on site.
Lots of markets
The casino and resort cost over $300 million when it first opened and contains a wide range of different games for players. However, on top of this huge casino and resort, there is the intention to open a 5,000 square foot area that will contain a sportsbook. This will give players the chance to place wagers on NFL, NBA, soccer, MLB and almost every other major sport you can think of.
High tech offerings
The sportsbook will be run by Rush Street Gaming who are based in Chicago. They intend to offer enough space for up to 80 players at a time as well as tables and seats. There will be a video wall that will allow players to view up to 22 different sporting events at a time and the VIP area will have its own video screens to watch different events.
Open almost all hours
The building was officially opened last week and had visits from a number of local celebrities and sporting stars. The opening included an announcement that the wagers had a $5 minimum and with the tellers working for 15 hours, means that there is someone manning the sportsbook almost all the time. For players who never sleep, there are a number of wagering kiosks that allow for 24 hour betting on sporting events around the world.
Wonderful surroundings
The sportsbook will allow anyone over 21 to place a wager on a sporting event. It is intended to be a luxury area that will give players the ability to relax while spending some time enjoying their favourite sporting events.
The casino have revealed that they are extremely proud at being the first sportsbook to open in New York under the new legal betting laws. They feel that they can offer a fantastic service to the people of New York as well as people who come from other states to enjoy their facilities.