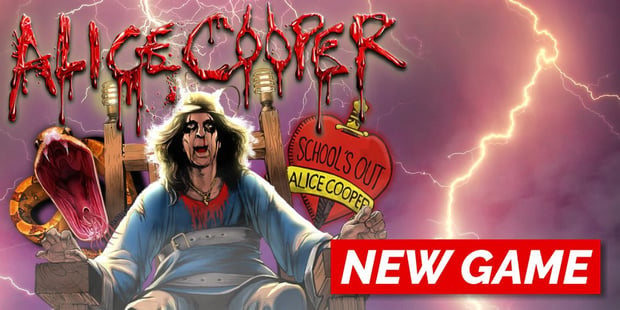 Rock Out with Alice Cooper on CasinoFair.com

Mathias Jensen

Published 09/04-2019
There has been a trend for slots based on rock stars and bands in recent months, and it's one that has proved hugely popular. Gamblers have enjoyed playing slots based on legends like Motorhead, KISS, Guns 'n Roses, Ozzy Osbourne and more, and now they can add Alice Cooper to the mix.
FanFair Technologies has just announced the launch of this 5-reel slot on their blockchain gaming platform. It was created by Spike Games Limited, a British-based developer responsible for a number of other top titles.
School's Out
The slot will be known as Alice Cooper School's Out for Summer and will be styled around the rock legend, while including songs from his discography. It is a 20-payline video slot that fans of Alice Cooper (and in particular the song for which the slot is named for) will love, but one that should also appeal to slot fans looking for something new.
Another Big Release
Alice Cooper School's Out for Summer is the second slot that Spike Games Limited have launched on this casino platform, with Ocean Blaster 2 preceding it just last month. A spokesperson from the brand noted that the game had undergone some unique tweaks in order to create something that was quicker, smoother, more exciting, and much fairer—all features that slot fans can get excited about.
They also noted that while the theme is a "blast from the past", the features have thrust Alice Cooper School's Out for Summer into the future. It integrates blockchain gaming in a way that fewer other slots have and this alone helps to make it unique, while going a long way to improving the blockchain gaming sector.
The spokesperson also noted that Alice Cooper School's Out for Summer includes unique features such as Death Row Pick-a-Win, a free spins bonus that takes place on a ladder, sending players up several rungs so they can collect bigger spin amounts and bigger win amounts as they climb.
There is also a Twin Wilds Bonus, not to mention some very innovative gameplay, some brilliant graphics, and a great soundtrack. Alice Cooper School's Out for Summer is set to be a Spring smash-hit.