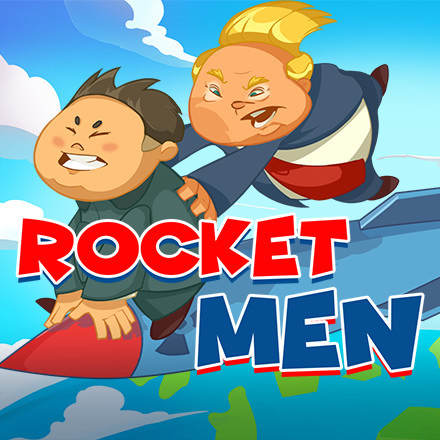 Rocket Men: Donald Trump vs. Kim Jong-Un casino slot now available

Mathias Jensen

Published 23/03-2018
You do not have to be very interested or familiar with politics to know that tensions have risen between the US president, Donald J. Trump, and North Korea's leader, Kim Jong-Un. The two have so far been in a reckless war on words with Donald Trump calling Kim Jong-Un 'little rocket man', which is the inspiration for Red Tiger Gaming's newest slot, the hilarious and ridiculous casino slot simply named Rocket Men.
While the rest of us hope the tension between the two countries does not escalate further into a nuclear war, you can now make money while enjoying yourself with this comical slot and try to make the best out of the situation.
Humor injected slot with various features
The developers at Red Tiger Gaming have really outdone themselves with this hilarious comical slot including many different features such as exploding radioactive hamburgers, war ducks, rocket wilds, and, of course, the popular political duo going at each other.
Among these features are the North Korean dictators` launch of nuclear missiles, which will add "wilds" with each missile landing successfully, as well as Don's Driving Range featuring the American president smashing golf balls across the reels in the attempt to remove losing symbols and replacing them with winning icon combinations to enhance your chances of winning.
Hilarious bonus features
The fun does not stop here, as the slot, which is designed like a typical Vegas slot, also features significant bonuses for the players to enjoy. The bonuses are so-called pick-and-click bonuses named Boom Time and Party Time. The first mentioned bonus is North Korea inspired bonus, where the famous dictator will launch missiles in order to pick big wins in his fight to claim large sums for your casino balance.
During Party Time you will witness the American president celebrating triumphs by slapping behinds in an attempt to land further gold into your honeypot, which is a humorous reference to the claims of alleged sexual assaults made by several women.
You do not have to be a p*ssy-gripping orange buffoon or a nuclear missile enthusiast to play the Rocket Men slot as it is widely available through Betsafe Casino, Rizk Casino, Guts Casino and Betfair Casino.
The game will definitely pull some triggers among Mr Trump`s supporters and at FindFairCasinos we seriously doubt that the game will make big waves, if any, in the North Korean Republic, as it might never be available in the notoriously closed country.
Play this slot machine here: