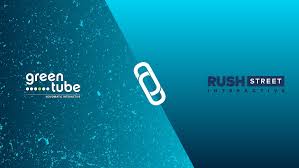 Rushbet.co and Greentube sign a new deal

Mathias Jensen

Published 02/08-2019
Greentube has made a statement that gives information about the deal they have signed with Rushbet.co. Because Rushbet are a Columbian based operator it means that their casino games will be available to a South American audience.
Greentube made it apparent to all that they were extremely happy to be signing this new deal with Rushbet. The opportunity for them to expand their business into the South American market was one they didn't want to miss. Because of this they have offered some of their top titles to the casino operator.
Moving outwards
Greentube , who are associated with Novomatic, have also signed a deal to work with Evolution Gaming recently as well. They feel that both of their new deals will allow them to expand their business operations, while also increasing the level of innovation that is associated with their games.
Continued steps into new territory
Greentube made use of their press release not only to announce their latest deal. They made it clear to all that they were happy to be given the opportunity to provide their top quality casino games to a new market. They also felt that their games were of a high enough quality to really make a mark in this new business area.
Because RushBet.co is a big name in the Columbian market they felt that it was the right deal to make. Both companies will benefit from the deal with Greentube getting increased exposure and Rushbet being able to offer a wider selection of games to their customers.
Opportunities for new growth
The statement from RushBet.co was equally full of praise. Because they feel that the Columbian market is a highly important one, signing this deal with Greentube to allow them to provide a range of top quality games to their players was very important. Over the last year RushBet has grown at a very fast rate and they feel that signing deals that are of the same level as this will only help them to continue their expansion.