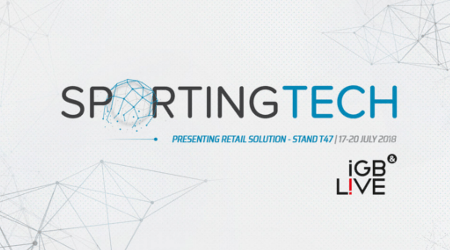 Sportingtech`s retail solution to be unvield at IGB Live 2018, Amsterdam

Mathias Jensen

Published 04/07-2018
Big name gaming platform provider, Sportingtech, is set to reveal its latest retail solution at the iGB Live event that will take place in Amsterdam between the 17th and 20th of July this year. The retail solution, which will form part of the brand's Pulse Platform will offer a range of features that are designed to increase the efficiency and productivity of Sportingtech's betshops. Like the online offering, the retail solution will focus on offering speed, state-of-the-art functionality, ongoing innovation, stability, and adaptability. The system will be completely web-based, meaning that there will be no installation and configuration requirements and it will be ready optimized and simple to use. It will support live betting, virtual gaming content, and a comprehensive array of sports betting functionality spanning both pre-match and live systems.
Sportingtech's Pulse Platform offers a complex range of features including sportsbook management, risk analysis functionality, cutting-edge CMS and CRM, comprehensive reporting, content management, and customer management. Its modular and flexible form means that it can be readily integrated into a range of business designs and systems.
Describing the retail solution, Head of Business Development at Sportingtech, Elvis Džombić, stated: "We always look forward to bringing innovations that will generate added value for our clients and enrich the product portfolio within our Pulse platform solution. Retail solution is all about that, application designed for markets where people enjoy going to betshops to place their bets and spend time. This opens up plenty of opportunities for multiple markets in Latin America and Africa."
About Sportingtech
Sportingtech's gaming platform has earned the brand a very strong reputation in the world of online gaming. Despite the fact it only formally entered the market in 2017, it has demonstrated significant progress. Under the helm of a very experienced management team, Sportingtech's platform is destined to become an international triumph.
Sportingtech currently operates offices in Malta, Portugal, UK, and Uruguay, giving it a strong foothold and the ability to access worldwide markets.