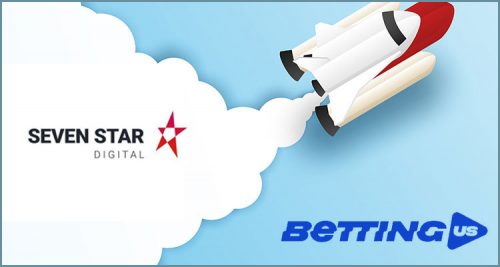 Sports Betting Comparison Website Launched by Seven Star Digital

Mathias Jensen

Published 12/06-2019
The British firm Seven Star Digital have just announced the launch of a brand new comparison website, BettingUS.com, that will help customers compare sports books in the United States. Seven Star Digital have some experience in this field, having previously launched the brands Compare.net and TopRatedCasinos.co.uk, but with this new venture they are moving away from the UK and EU markets and into the newly regulated US marketplace.
US Interests
British firm Seven Star Digital, who are based in London, announced BettingUS.com via a recent official press release. They said that the site would be focused entirely on the emerging US sports betting market and would give users a chance to read a plethora of reviews alongside state laws to help them find the sites that are legal, verified, and highly-rated.
It ensures that US-based players will have instant access to the sort of tools that are already available to players across Europe. Outside of the US, for instance, there are sites like OddsChecker that compare odds listed on multiple websites, as well as sites geared towards compiling customer ratings from every single casino and sports book.
BettingUS.com will provide a similar service to players in the USA, which in turn will ensure they can gamble freely and safely.
PASPA
The Professional and Amateur Sports Protection Act, known simply as PASPA, previously made it all but impossible for states outside of Nevada to legalize sports betting and other restricted forms of gambling. Despite the fact that the US operates on provincial laws, PASPA stopped these states from doing their own thing with regards to online gambling.
When this law was abolished last year, it created an endless list of possibilities for states across the country. In the year since PASPA was invalidated we've seen numerous states pass laws legalizing sports betting and online gambling and there are many more lining up to join them. The market is projected to turnover an additional $8 billion by 2030 as more states follow suit, and it's this turnover that British firm Seven Star Digital are hoping to contribute towards.
Fast Growth, New Opportunities
A spokesperson for British firm Seven Star Digital commented on the recent changes in US regulation to note that it was creating a "whole host of opportunities" for them and that their goal was to "make it easier for punters to navigate the United States sports betting scene."
One of the biggest markets they will be looking to enter is New Jersey. The state of NJ has had a long history of legal gambling thanks to the many casinos in Atlantic City, but it was also one of the first to embrace new sports betting and online betting laws. British firm Seven Star Digital has also recently acquired "affiliate status" by the New Jersey Division of Gaming Enforcement, which will allow them to do business here and to profit by sending traffic to the state's operators.