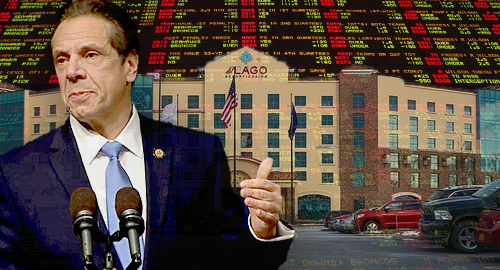 Sportsbetting in Upstate Casinos Backed by New York Governor

Mathias Jensen

Published 27/01-2019
The Governor of New York, Andrew Cuomo, is aiming to find new tax revenues for New York. As part of this exercise, he has lent his support to a campaign that is hoping to make land-based sportsbetting legal in four commercial casinos found in upstate New York.
A Boost for Commercial Venues
The Democrat and Chronicle newspaper released a report and suggested that during Tuesday evening's State of the State address, the 61-year-old Cuomo asked the New York State Gaming Commission to begin forging rules which would get the ball rolling. The four casinos in question are the Rivers Casino and Resort Schenectady, Tioga Downs Casino Resort, Del Lago Resort and Casino and Resorts World Catskills Casino Resort.
Provision from Tribes
The casinos were authorized back in 2013 following approval of the Upstate New York Gaming Economic Development Act by state legislators. This measure did, however, contain a provision that meant these venues and their aboriginal counterparts were permitted to offer sportsbetting only so long as the Professional and Amateur Sports Protection Act (PASPA) federal prohibition was rolled back. This happened in May due to a ruling that came directly from the United State Supreme Court.
Budgetary windfall
In its report, The Democrat and Chronicle suggested that the governor – who is in his third term – is facing a $3.1 billion budget shortfall and hopes that sportsbetting can make up the difference from as early as May.
On a statement Cuomo said:
"We invested in upstate casinos. Let's authorize sportsbetting in the upstate casinos. It's here. It's a reality and it will help generate activity in those casinos."
There are Agreements
The Democrat and Chronicle explained that the New York State Gaming Commission is responsible for creating timely and accurate regulations which outline exactly what can be offered to players and how much those casinos will be responsible for paying in tax. The regulator is not set to convene again until January 28, but the fact that partnerships between sportsbetting firms and the commercial properties already exists means the process could be quicker.