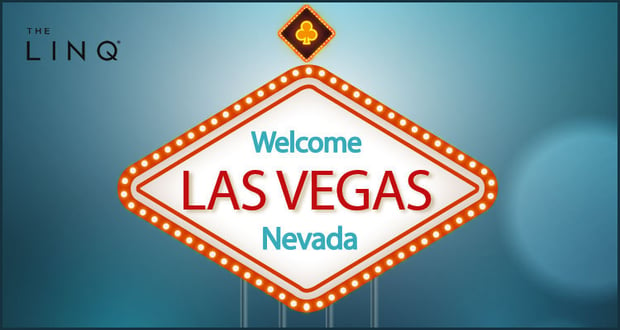 The Linq Plans an Industry-First Holographic Zone

Mathias Jensen

Published 05/06-2019
Caesars Entertainment Corporation is seeking to explore an industry-first as it plans to add an "experiential casino floor" outside its The Linq property. This floor will feature a holographic gaming zone the likes of which hasn't been seen anywhere else and will provide a level of interactive gaming for their many visitors.
An Impressive Contribution
According to a recent press release, Caesars Entertainment Corporation, one of the biggest hospitality and entertainment brands in the world, is going all-out to provide the next-level entertainment options to gamers everywhere.
They recently launched the Re:Match bar inside their Las Vegas venue and this offers 27 bar-top touchscreen displays that give patrons the ability to watch and play while they drink, eat and enjoy themselves. This venue has already offered advanced, state-of-the-art entertainment and immersion, but with the addition of holographic gaming Caesars Entertainment Corporation will be taking that to the next level.
The Holograms
The new area will be opened near The Linq's casino, a casino that spans nearly 33,000 square feet. It will feature a selection of gesture-controlled holographic games, giving players the chance to play casino games like rock-paper-scissors, tic-tac-toe and more. The games will be projected right in front of them and the technology will then capture their movements, allowing them to play as if they were standing right in front of their opponent.
This holographic gaming facility will also capture images of the players in motion, which they can then share to social media. And that's not all, as Caesars Entertainment Corporation have also announced that this room will feature holographic dancers and a host of gaming stations, giving players some harmless entertainment and some fun games to play while they enjoy themselves.
There are also plans to install some art projects imbedded with LED lights in the near future, turning this space into a complete technological installation that will appeal to Sci-Fi fans everywhere.
An Active Part
A spokesperson for Caesars Entertainment Corporation explained the holographic zones and their content to the Las Vegas Review newspaper. They said that they would provide a complete immersive experience that players can interactive with on all levels, drawing them into the "Art experience" and making them a part of it on all levels.
They went on to say that the attraction would encompass "six virtual reality bays", which players can use to put themselves in the shoes of astronauts, action heroes, athletes, and a number of other aspirational professions.
The spokesperson finished by saying that guests to Caesars casinos are looking for a "new definition of play" and that The Linq can provide them with that. "We're introducing games that [players want to play]," they said, "whether it's a take on [their] childhood favorite" game or something that is new to the market.