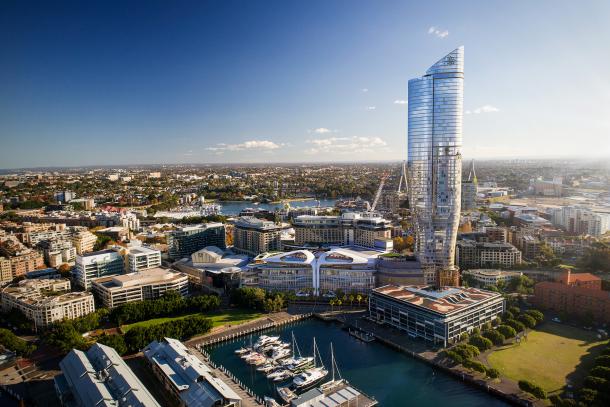 The Star Adds Ritz-Carlton Hotel at Sydney Casino

Mathias Jensen

Published 20/08-2018
The Star's existing casino in Sydney is about to get even more luxurious: The Star Entertainment Group (an Australian casino operator) has announced a new partnership with the luxury hotel chain Ritz-Carlton which will see the development of a A$500-million hotel and apartment complex near The Star's existing casino in Sydney.
This development is part of a large renovation and expansion project for The Star. For a long time it was the only one operating in Sydney but the arrival of gaming operator Crown Resorts will bring an A$2-plus-billion integrated resort with a casino floor to Barangaroo. The project is expected to be finished for early 2020 which will represent a dramatic expansion of Crown's footprint in Sydney.
A 61-story, six-star Ritz-Carlton hotel will be the result of the new venture forged between The Star and Chow Tai Fook, a Hong-Kong based conglomerate. This will bring another 220 hotel rooms and 200 apartments as well as a high-quality private restaurant, a spa and wellness center, and two gyms as well as an additional public restaurant.
But that isn't all. Guests will be able to enjoy views to the harbor from a new pool area, sample delicacies at a range of new food and beverage outlets, and enjoy other amenities. At the present moment there are no plans to expand the gaming area.
The new design has been planned by FJMT and will go up in direct competition with the six-star hotel planned from Crown Sydney. The Star Sydney will signal a return to Sydney for the luxury hotel chain. In the 90's it operated two properties within the city but these were eventually closed before being rebranded as InterContinental Double Bay and Sir Stamford at Circular Quay.
The Star Will Focus on China's Expanding Middle Class
Comments made by Matt Bekier, the CEO of Star, give us an idea of the strategy being pursued: there is a clear focus on meeting the demand that is being driven from China's rapidly expanding middle class as well as other international visitors.
Bekier revealed that Australia attracts just a single percent of all China's outbound tourists but that this can be increased if the amenities on offer fit with their tastes. While the current international visitation rate stands at 8.3 million, many analysts have predicted that this rate stands to double to 15 million each year over the next decade.
In 2016 there was a massive withdrawal of Chinese players from Australian casinos following the arrest of Crown Resorts staff in Mainland China. In the wake of the incident, which saw the Head of International VIP Operations arrested, both Crown and The Star suffered huge losses. This is why the two companies are developing strategies and investing big to capitalize on the growth of China's growing middle class that is looking for new travel destinations in the area.