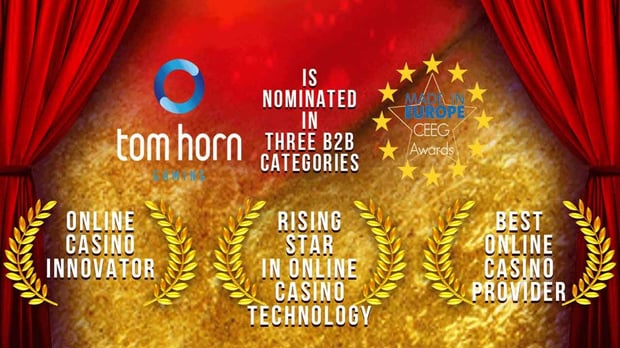 Tom Horn nominated for three awards

Mathias Jensen

Published 03/10-2019
Tom Horn Gaming have been nominated for awards in three separate categories at the CEEGA for 2019. The relatively new software developer are excited about their nominations as they are still less than two years old.
The three awards that they are up for will see them battling it out to be named the Rising Star in Online Casino Technology, Online Casino Innovator and Best Online Casino Provider.
This is nothing new to them, even though they are still a young company. The won the Rising Star award last year and so are confident of walking away with at least one more award to go with it. They have also been successful in other award ceremonies having won another two awards at the BSG Awards.
Consistently successful
They have also been nominated at the EGR B2B Awards as well. This is the second year that they have been nominated for these awards and they thoroughly enjoyed attempting to get one over on other companies within their area of the market.
Win money on Lanadas Casino, click here!
Although they didn't manage to win any awards at the EGR B2B Awards ceremony, that they were nominated alongside some of the biggest names in the industry is something that they are highly proud of. The constant improvement within their company is something that drives them forward at the moment.
Continued growth and improvement
The CEO of Tom Horn Gaming was extremely happy that other companies had recognised what they were doing and nominated them for awards. He said that they hope that their products speak for themselves and as long as they can keep improving they expect these awards will be the first of many for them. The fact that they have been nominated shows that the companies they work with and compete against have recognised the hard work and quality titles that they are creating. To be acknowledged by their peers is something that makes them immensely proud.
Previous awards
Tom Horn Gaming are looking forward to the award ceremony, and they hope that they will be able to enjoy a repeat of the previous year when they won one of the awards that they were nominated for.
The CEEG Awards are aimed at giving out awards to the companies that offer their services in Eastern Europe and Central Europe. This is the fourth year that they have run these awards and they currently feel that they are the most prestigious awards for iGaming within the region.
Signing big partnerships
The award nominations come after Tom Horn Gaming signed a partnership agreement with OPTIMA. This will see their titles become available through their OPTIMAs platform. It will allow a much wider audience access to their titles and give them the opportunity to continue their massive growth.