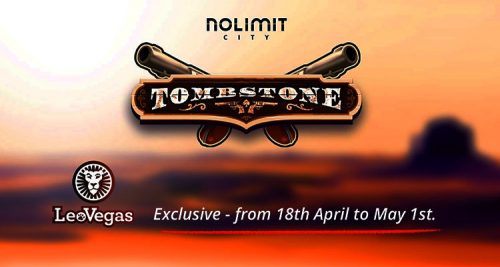 Tombstone Slot Gets Exclusive LeoVegas Release

Mathias Jensen

Published 22/04-2019
The Stockholm-based iGaming company, NoLimit City, have just announced that its brand new video slot, Tombstone, will be available on LeoVegas as part of an exclusivity deal. This gun-toting title will already be available on the LeoVegas casino by the time this piece goes out, giving members a chance to explore the many unique features that NoLimit City have embedded in their game.
Tombstone was developed using HTML5 technology and it is geared towards the mobile gaming market. According to an official press releasing announcing the launch of this slot, it will spend a couple of weeks as an exclusive title before being rolled-out to gambling operators worldwide on May 2nd.
What to Expect
Tombstone takes its name from a classic 1990s western that is often referred to as one of the greatest films in this genre, as well as a famous town in which many outlaws lived. It's therefore no surprise to learn that the NoLimit City Tombstone slot is all about the Wild West, with a team of gunslingers trying to establish order in a town that has been overrun by outlaws.
There are a number of features to lookout for on Tombstone and fans of westerns will be delighted with the aesthetic and the soundtrack. In launching this title for the spring and summer NoLimit City are taking advantage of a trending theme, which is thanks in no small part to a certain Rockstar video game that has had the media world buzzing in 2019.
A Nudge in the Right Direction
Tombstone was released off the back of Hot Nudge, another NoLimit City video slot that aspired to do things different and received a lot of acclaim when it hit online casinos towards the end of last year. Hot Nudge utilized a unique "xNudge" feature that brought back an under-used and widely appreciated slot mechanic, allowing players to "nudge" reels and bring more wilds and multipliers into view.
A spokesperson for NoLimit City declared their excitement at the launch of Tombstone and the success of Hot Nudge, noting how proud the team were to be witnessing the release of this Wild West themed slot after spending many weeks working on it, and going on to say that they expected it to perform really well.
These sentiments were echoed by LeoVegas, who have made some big moves on their own in recent years, moving into the now wide-open Swedish online gambling market and signing a number of contracts that will see their casino and sports book grow considerably and become available to more players.
A spokesperson for the Swedish-based LeoVegas announced that "NoLimit City have created what we believe to be a wonderfully produced [title]", before saying how excited they were to be offering it as an exclusive title on their casino.
Members of LeoVegas can pay Tombstone straightaway, while non-members only need to wait for the 2nd of May to see this game being offered on countless other top online casinos around the world.
Who Are NoLimit City?
NoLimit City have more than a decade of experience behind them and have worked with a number of top casinos and gambling brands in that time. However, it's only in the last year or so that the average player has started to take notice of the work that they do and this is mostly down to the popularity of casino games like Hot Nudge and Sushi Mania.
If Tombstone achieves anywhere near the sort of success that the aforementioned titles achieved, NoLimit City should see their stock in this industry increase significantly, and we could see this growing brand sign many more deals and release many more titles in coming months.