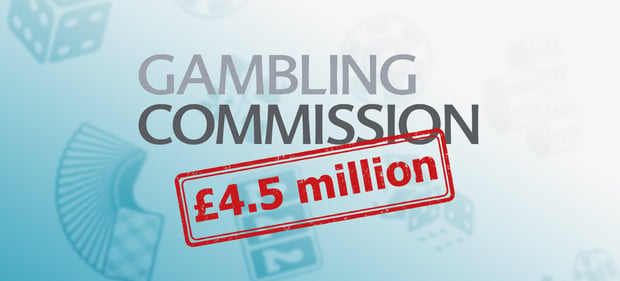 UK Regulator Fines Operators £4.5 Million

Mathias Jensen

Published 28/05-2019
The UK Gambling Commission has been busy trying to keep up with new rule changes and to make sure that all licensed operators abide by these rules. It has just issued one of its biggest fines in recent years after asking four iGaming operators to cough-up a combined total of £4.5 million.
This fine is the result of an ongoing investigation into the UK licensed gambling sector and probably won't be the last that we hear of the UK Gambling Commission and their licensees in 2019.
The Four
In a detailed press release UK Gambling Commission announced that the four operators it had targeted are InTouch Games Limited, MT SecureTrade Limited, BestBet Limited and Betit Operations Limited. These are just 4 of over 100 operators that UK Gambling Commission have scrutinized in recent months, but they are 4 of the ones to receive the most attention and the biggest penalties.
Money Laundering Concerns
One of the biggest areas of focus for the UK Gambling Commission is money laundering, as gambling sites and trading sites are believed to be popular with money launderers looking to clean large sums of money in a short space of time and without question.
InTouch Limited are believed to have fallen foul of the new regulations set to control money laundering, with UK Gambling Commission noting that the operator had "weaknesses" in the way that it dealt with this potential issue, resulting in a fine of £2.2 million, the biggest one of the four described herein.
UK Gambling Commission went on to declare that InTouch and its mFortune.co.uk and MrSpin.co.uk websites had not done enough to prevent the risk of money laundering and had also failed to adequately identify and prevent problem gambling.
Similar breaches were found on Kaboo.com and HighRoller.com, both of which are owned by Betit Operations Limited. They also, apparently, failed to report that their Money Laundering Reporting position had gone to a new person. As a result of these breaches, Betit Operations Limited were fined £1.4 million from the UK Gambling Commission.
Voluntary
MT SecureTrade, who operate gambling sites such as Guts.com, have apparently agreed to contribute £592,333 in place of a financial penalty. The UK Gambling Commission had discovered that the brand were a little lax when it come to anti-money laundering measures and also struggled with customer protection.
In addition to this voluntary contribution, the brand, which also owns Rizk.com, were told to pay in excess of £100,00 towards compensating victims of suspicious betting.
The final fine went to BestBet Limited after their BestCasino.com website was found to be lacking in customer protection and anti-money laundering measures.
The Next Level of Care
A spokesperson for the UK Gambling Commission commented on these fines, noting how dedicated they are to setting and enforcing standards to make the industry a safer and fairer place. They also added that they have been "working hard to raise standards" across the online casino sector, with the ultimate goal of ensuring that the online gambling sector is completely "crime-free".