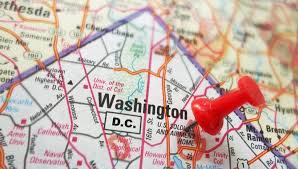 Washington DC Mayor Signs Sportsbetting Legislation

Mathias Jensen

Published 05/02-2019
After Muriel Bowser, the mayor of the District of Columbia (DC) signed the Sports Wagering Lottery Amendment Act on Wednesday, there's a good chance that DC could become the next US jurisdiction to legalize sportsbetting.
Consent from Congress
iGamingBusiness.com and CalvinAyre.com broke the story, reporting that the Democratic representative signed the deal a month after the 13-member DC Council passed the legislation. Despite the signing, the measure can only be implemented once the 60-day review period is overseen by the US Congress.
An Uncertain Future
This 60-day review period is in place because DC is not a state, unlike other jurisdictions which have legalized sportsbetting like New Mexico, Nevada, Delaware, New Jersey, West Virginia, Rhode Island, Mississippi and Pennsylvania. While it is uncommon for the federal government to block legislation that is passed locally within DC, it did recently throw out an effort to legalize marijuana alongside a measure that would see its citizens enjoy safer access to reproductive care.
Intralot SA designated
Jack Evans, a DC Council member, is the driving force behind The Sports Wagering Lottery Amendment Act. When the legislation gets the go-ahead, Intralot SA will enjoy a privileged position as the "sole-sourcing" partner. The legislation also details an up-front supplier license fee of $10,000, in addition to a $2,000 annual renewal duty. Operators in DC would also have to pay a 10% in tax on gross wagering revenues.
Potential for Mobile Sportsbetting
If the US Congress does not block the legislation, it would also pave the way for the launch of a DC Lottery app. This app would become the main method that players would use to place bets. With that said, the four main sports stadiums can also get in on the action and offer a land-based sportsbook if they are willing to pay $250,000 for five-year licenses. The four locations that this option would be available to are FedExField, Nationals Park, Audi Field and the Capital One Arena.
These locations could also launch proprietary sportsbetting apps, but there would be a strict geo-location blocker, meaning that they can only be used within a two-block radius from the physical locations.