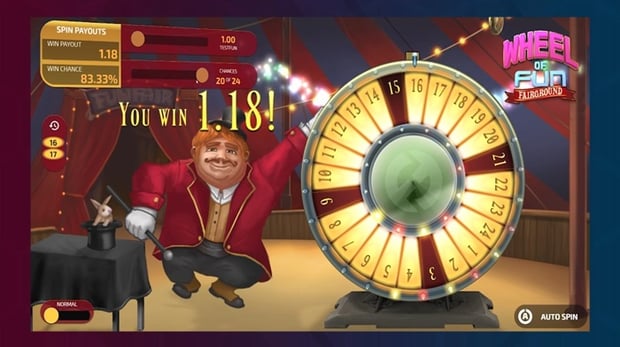 Wheel of Fun Announced by FunFair Technologies

Mathias Jensen

Published 16/11-2018
FunFair Technologies has just announced an online casino game that will bring together a number of the most beloved aspects of gaming. Wheel of Fun will take the concept of Wheel of Fortune and give the player a high or low option to provide a new twist on this instant-win classic. Backed with blockchain security, players are guaranteed great fun and security.
Face the Ringmaster
In a traditional big top where you can almost smell the candy floss, your foe awaits. Leader of the circus, the Ringmaster must be confronted for players to win big. Spin the wheel and use the Chances slider to light up 4 to 20 of the wheel's 24 numbers. Increase the size of payouts when fewer numbers are lit or enjoy more payouts when the wheel's numbers are lit up more frequently.
FunFair Technologies' famed high-specification animation, mechanisms and soundtrack are all on display in Wheel of Fun as the company continues to create innovative blockchain design for its slot games.
Fun for everyone
There are a number of spin speeds for players to use in Wheel of Fun and several customizable elements of the game to make sure that the game suits every player's wants and needs. Wheel of Fun uses the Fate Channel scaling solution to enable real-time functionality and gameplay.
Talking about the company's new release, Chief Commercial Officer Stefan Kovach sees Wheel of Fun as a distinct step forward for the developer:
"Wheel of Fun will offer players yet another first-class blockchain gaming experience, utilizing our proprietary scaling technology and design expertise to further expand the FunFair games portfolio. This title represents the start of FunFair's ramped-up content rollout over the coming months. We will continue to raise the benchmark of blockchain game design, with new titles spanning a number of genres ready to service our existing and future white-label partners."