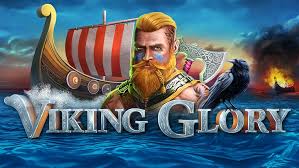 A huge number of features included in Viking Glory from Pariplay

Mathias Jensen

Published 16/09-2019
Pariplay has released their latest video slot title, Viking Glory. The title claims of having one of the highest numbers of features of any title on the market and is expected to be a huge hit.
It features 5 reels and has 30 ways to win. This is combined with a very well crafted Viking theme that will have players' jaws hitting the floor at first sight of the visuals.
The features included are also wide-ranging with five progressive jackpots on offer to players, bonus spins, a Power Pay mode and a scatter jackpot. It is one of the most feature-packed casino games on the market and is guaranteed to keep players engaged in the long term.
Guaranteed to grab the attention
While there may well be other titles on the market that can compete with the number of features that Viking Glory has on offer, it is definitely the most feature-packed game that Pariplay have ever released. One of the best features is the Power Pay feature. This gives players the ability to add an extra reel to the game board when it is activated amongst other features.
Triggering the Power Pay
There are four different features that can be activated with the Power Pay feature. All of these distinctive features will increase your chances of grabbing wins and increase the overall earning power of Viking Glory. One of the most exciting of the four features is the Power Pay Wild Reel. This will add a huge number of wild symbols to the reels which in turn will make plenty of winning combinations. On top of this, there are a number of bonus spin modes in place to help you grab even more wins!
The chance to grab huge prizes
The features that have been put together by Pariplay for their new game are all designed to realistically portray how Vikings went about their business. So with trading and a shield wall both incorporated into the game, it gives players a history lesson while they play.
The shield wall comes into play mainly during the free spins mode. This will give players an opportunity to try and get past a shield wall in order to earn big prizes. This highly engaging feature puts players right into the heat of battle and adds excitement to big wins.
Viking Glory features a 95.97% RTP which gives players a good chance of a decent return. It also includes a medium volatility, meaning players will see regular wins appearing, although they won't be quite as high as a high volatility game would be. The game is also available in a number of different countries and has language options featuring almost 25 different languages.
This is the latest in Pariplay's releases and adds to their roster of more than 100 top video slot titles. It is expected to be extremely popular, especially in the Scandinavian market.
Pariplay released a statement to go with the announcement of their latest release. They made it clear to all that they were delighted with how Viking Glory has turned out. The spokesman said that they have raised their standards higher than ever before with this title. It will give players a realistic Viking experience while also adding in excitement and huge wins. Viking Glory is destined to bring in players and keep them interested in the long term.
This isn't the only game that Pariplay has put out this month as they have also recently released Prancing Pony. While the title of the game may seem a little bit strange, it is actually an homage to the Lord of the Rings world created by Tolkien. Taken directly from the 2013 Hobbit movie, it is guaranteed to excite fans of the series.