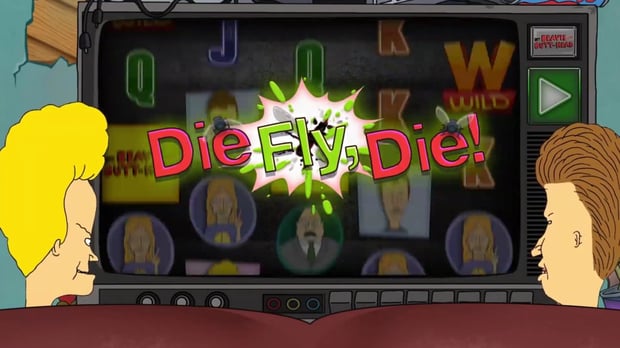 Beavis and Butt-Head Revived by Blueprint Gaming

Mathias Jensen

Published 15/06-2019
Blueprint Gaming are one of the most exciting developers out there right now and have delved into the world of pop culture to create countless classics, including The Goonies, Mars Attacks!, Ted, The Naked Gun and Top Cat. It seems that they have a thing for animations and classic comedies, and their most recent acquisition and launch would back that up.
The star developers at this top-rated firm have just announced the release of Beavis and Butt-Head, a glitzy, gorgeous online slot based on the animated, game-changing comedy of the same name. Beavis and Butt-Head was a big hit for Mike Judge (who went on to create King of the Hill) in the 1990s, and while it's disappeared out of the pop culture limelight somewhat, Blueprint Gaming are seemingly keen to bring it back.
The video slot promises to feature a selection of classic animations and images, including moments from the series that will no doubt trigger those feelings of nostalgia for its fans.
What to Expect
Beavis and Butt-Head has all of the hallmarks of a classic Blueprint Gaming slot, including great graphics and smooth gameplay. There are also bonus features and modifiers to make things even more appealing.
One of the features on this top video slot begins when the two titular characters start sniggering on the couch. When this happens a plethora of different features can be unlocked, including additional wilds, colossal symbols, and more.
There is also a main bonus feature that kicks thing up a notch, launching when players get three or more of the bonus symbols. This is where the big money can be won and where the most fun can be had.
An Iconic Show
Jo Purvis, the Director of Marketing and Relationships for Blueprint, commented on the release of Beavis and Butt-Head, calling the license "one of the most iconic" shows from the 1990s, before adding, "we're sure [the Beavis and Butt-Head slot] will appeal to fans of the show."
Blueprint have also called it one of their "most engaging" video slots to date, and that's saying a lot for a company with a history as extensive and as impressive as theirs.
Beavis and Butt-Head is one of the standout recent releases from Blueprint simply because the license is so iconic, but it's far from the only game that they have released thus far in 2019. Only a few weeks ago they launched Legacy of Ra Megaways, utilising the license they borrowed from Big Time Gaming to create a slot with a huge number of "ways to win", and one that takes players on a tomb raiding adventure.
If this title and games like Beavis and Butt-Head are anything to go by, we'll be seeing a lot of Blueprint Gaming in 2019 and beyond, and if you're a fan of 1990s TV shows and other iconic pop culture classics, that can only be a good thing.