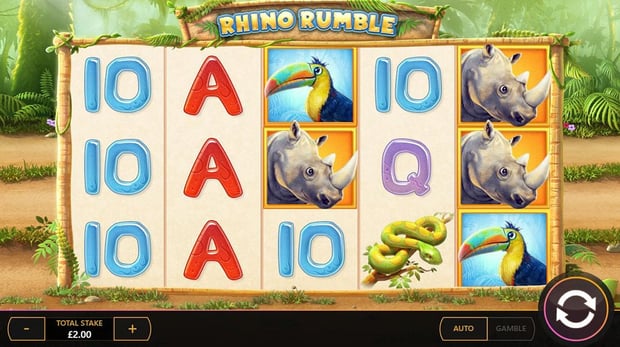 Pariplay Limited Launch Rumble Rhino Slot

Mathias Jensen

Published 29/03-2019
This has been a big month for Pariplay Limited as they recently launched their Zombies Gone Wild slot, which met with a very promising reception. To keep the momentum going, they have just announced the release of another big video slot title, Rumble Rhino.
Set in the grasslands of Africa, Rumble Rhino is a ferocious, animal-themed safari slo that takes its lead from massively popular titles like Mega Moolah and offers an impressive 100-paylines.
Mobile Ready
The Gibraltar-Based Pariplay Limited, used a recent press release to announce Rumble Rhino, noting that it was HTML5-ready and designed to take players "on a journey" through the wilds of Africa.
This press release also noted that Rumble Rhino would be available in 20 languages and offered a 95.52% Return to Player (RTP). It comes loaded with the option to switch to portrait mode, giving players the chance to play with their phones held vertically, and it has a wealth of animal-themed imagery, including giraffes, zebras and, of course, the titular rhinos.
What to Expect
Rumble Rhino's 100-paylines are spread across four rows, each of which is packed with carefully designed animal imagery. There is also something known as a Mystery Mask bonus feature, which beefs-up the wilds, scatters and other symbols and also adds 4x4 mega symbols to the reels.
This feature is huge and brings all 100-paylines to life, but it's not the only feature to lookout for on Rumble Rhino. There is also a round where players are tasked with collecting 1 of 6 prizes, including bonus spins, wilds, multipliers and instant wins.
A Good Cause
The press release that announced the launch of Rumble Rhino also noted that 10% of the profits from this game will go towards Save the Rhino International, a charity dedicated to preventing the rhino from going extinct, something that is a very real possibility thanks to poaching and habitat issues. They have guaranteed a minimum donation of at least €10,000, but this could climb much higher if the title proves to be popular.
This charity donation has been verified by regulators in the United Kingdom, Malta and the Isle of Man and gives players more reason to play this title.
Socially Responsible
Pairplay Limited are dedicated to being socially responsible as they grow their already expansive list of gaming titles. They have released many statements to this extent in recent months and Rumble Rhino is concrete proof, if it was needed, that they are also willing to put their money where their mouth is.
It's rare for video slot developers to take a stance like this and to give money to charities not related to problem gambling or other societal issues, but this will no doubt be a very welcome move for the company and one that others may emulate in months or years to come.