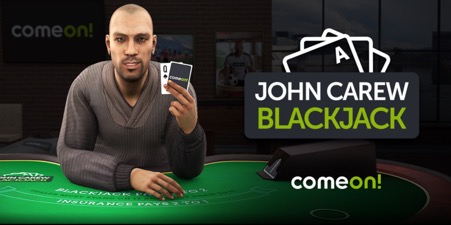 Yggdrasil release John Carew Blackjack to the world

Jonas Riis Vestergaard

Published 24/11-2019
Yggdrasil have shocked the world with their latest tie in game. They have added the former professional footballer from Norway, John Carew to their latest Blackjack game. This will see Carew created in virtual form to act as a dealer to players. It's a left field choice that should provide some new novelty and fun to their series of Blackjack games.
Details of what's on offer
The game will be made available at ComeOn initially. It will give players the opportunity to play on a table that has space for four players in total.
The game will feature console quality visuals with 3D images used to try and create a realistic casino experience. Albeit, a realistic casino experience that has John Carew as a Blackjack dealer. Carew has been fully motion captured to give the most realistic impression of him as possible. The quality of the visuals makes sure that this game is one of the most immersive on the market. It actually is like John Carew is really there at times.
The leader of the table games department at Yggdrasil said that they were ecstatic to have signed John Carew to a deal for this game. On top of that they were delighted to be able to roll it out with ComeOn initially before anywhere else got to see it.
More new titles
The new John Carew Blackjack games comes after Yggdrasil announced a new viking based video slot, Age of Asgard. This will see players given 40 paylines and the opportunity to grab big wins over two game boards.
There are plenty of features included, with some superb innovations offered. This includes the chance to fill the reels with wild symbols that become locked in place during respins. There is also a bonus games feature which offer up to 10 free spins.
The two games are at the opposite ends of the spectrum in terms of what they offer, but it shows just how dedicated to innovation that Yggdrasil are. They are always aiming to make something different that will keep players interested.