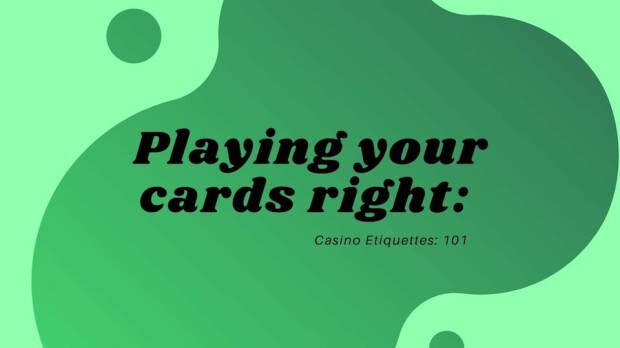 Playing Your Cards Right: Casino Etiquettes 101

Mats

Published 05/05-2021
Discovered the joys in Gambling? Nervous about what the people are like there? Don't know how to behave appropriately inside a Casino? Well, don't worry. You are not alone. Go and make an excellent first impression on your co-players. But to do this, read on.
Casinos are some of the happiest places on earth. It can get quite fun and sometimes, quite stressful too, especially if the odds are not in your favor. Nevertheless, people still go there to de-stress and relax. Different Casinos most likely mean different rules and regulations too. In general, though, one might have to consider following these Casino Etiquettes: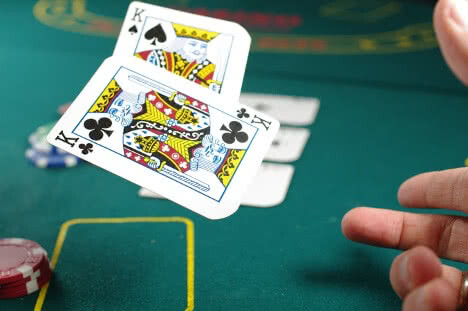 (source: Image)
Alcohol Control
A newbie must bear this in mind. Never indulge too much in alcohol. Some Casinos offer free drinks for their clients. It is essential to control oneself when it comes to that kind of offer. It can be a reason one would start playing carelessly.
Remember that your money is at stake here and always think as much as possible that you are alone. This way, one can be more secure in managing his money. Being intoxicated will make one feel exhilarated, but it's a very different story in terms of playing the games well.
Phones Away
People nowadays can't get enough of their phones. Consider a Casino is a different place. It is old-fashioned. It is an obscene gesture if a player is always on his phone. One does not want to make the wrong impressions.
Casinos are like hosts for endless parties. There will be no dull moment here. The music, people, games, foods, and drinks would be enough to have a great time. So put away those gadgets and have fun!
Play by the Rules
When entering a Casino, it is vital to know its rules and regulations. There are many fun games there, and it would not hurt if one takes the time to understand how to play those before actually placing any bets. You can even check with a new casino app to get acquainted with the games before playing the real deal. Play all you want! Just make sure you are playing smart too.
Luckily, some Casinos offer free tutorials during the day. Of course, one can always search online regarding the nature and procedures of every game or a preferred game. Doing this would increase the chance of one having a perfect time.
Keep Your Cool
It's all fun and games to everyone inside a Casino, but not until someone loses and ultimately loses his patience too. One does not want to be in a commotion. So, it is crucial to always side with patience and courtesy. Keep your comments to yourself if you think someone is not doing the right strategy. That way, one might be out of trouble.
Be friendly and cautious at the same time. If one finds a rather annoying or aggressive player, it is better to look for another table with different sets of players to have fun with; as much as possible, be sure to adjust. Try not to lose your cool even if one is in an unfavorable situation.
Tip the Dealer
No, tipping the dealer won't make one win more often. Keep in mind that the games are all probability-based. The tip would make the dealers happy. One might not know it, but a dealer's paycheck is not fat enough. They have to deal with drunk players and have to be standing up all the time to monitor players, so that a tip would be very nice.
It is worth noting also not to give them directly a tip. Put the tip on the table, and the dealer will get it himself. It is considered an excellent thing to tip the dealers and waitresses. Together with other staff, they make sure that everything is going smoothly.
Dress Appropriately
Most Casinos have their dress policies. Appropriately dress up to avoid being blocked upon entering. Remember that people there are most likely wealthy and famous. It is safe to imagine that one is going to a very fancy party.
One could always check out the Casino before going there to be extra sure. That way, especially if one is a tourist, one would know the desired Casino's rules and regulations, including their dress policy.
Accepting Defeat
The odds will not always be in one's favor, especially in the games of probability. One would experience being the underdog way more often than actually winning. Expect things like this to happen.
As mentioned earlier, please keep your comments to yourself, and that includes one's disappointments. Most people would laugh at you when you lose it. Learn how to accept your defeat and make no fuss about it if possible. After all, gambling your money is your choice in the first place.
Reminder
Casinos are places where one could find temporary happiness and relaxation. Enjoy and make the most of it. But please be sure to act and play smart always when inside. Know the limitations to avoid imminent regrets.