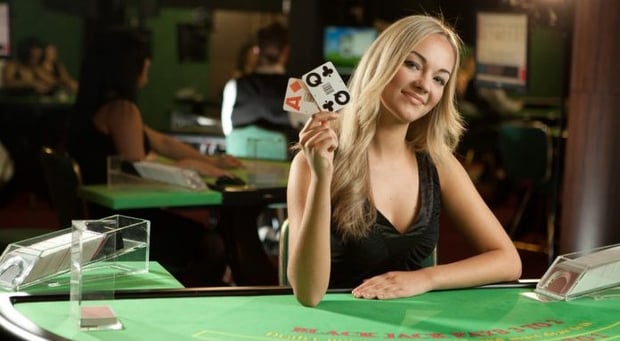 Part 17: Never split a winning hand

Anonymous

Published 06/03-2019
The Blackjack bug has caught me…I dream of big Blackjack wins and glory – but to win you must play, and this time I thought I'd challenge myself to a bit of Live Casino gambling. Dealers Casino offers a bunch of Live Casino games provided by the leading gaming developer in the live casino games category, Evolution Gaming. I don't know much about casinos, but I know that once the name Evolution Gaming is thrown out, you know that it is a casino that takes their games seriously, that wants to entertain and provide some lucky ones with unimaginable wins.
I want to be one of those lucky ones one day to celebrate a really big Blackjack win and I'm planning to go to a real casino sometime to feel the whole atmosphere and vibe that comes with that but first… first we try Blackjack White.
When you click on the Blackjack White icon you get to a lobby with several different tables. On the top of each table you can see the minimum bet and if you put your mouse finger over it you can see the maximum bet. The bets on the Live Casino games are slightly higher than in your normal casino game in the Dealers Casino lobby. You can also see how many seats are open at each table.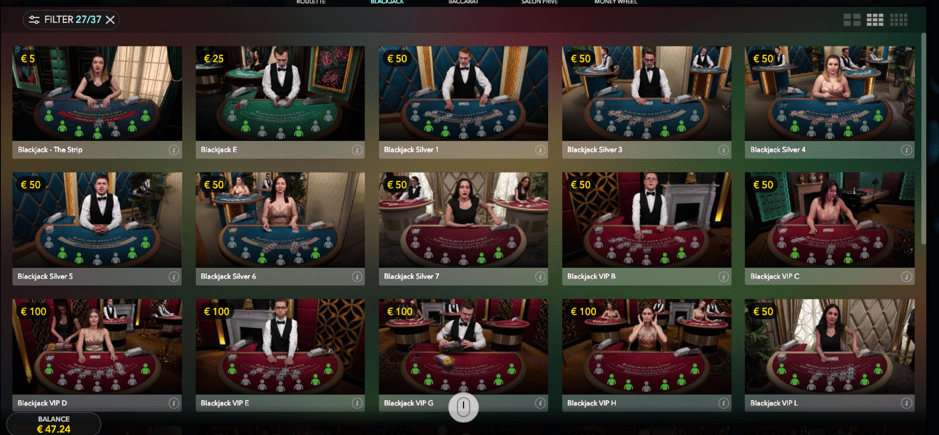 I choose the table called "The Strip" as the minimum bet was just €5. I was actually a bit stressed when it happened because I didn't understand how to bet and therefore bet too much and then I didn't want to play for all that money, so I left the table. In my second chance It went a bit better…
I managed to bet the amount I wanted to bet but when I did, I accidentally pressed HIT instead of stand… and lost it all.. damnit. It was really hard to take pictures and play at the same time I must admit.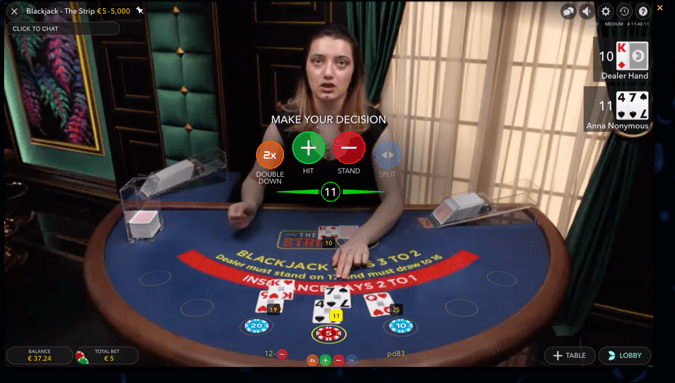 And because the minimum bets are rather high, I ended up losing quite a lot… but I did like the feel of it… it felt like I was in those shows that used to big when I was younger… PokerStars or something where they played Texas Hold'em. I think it was actually that show that got me into casino games to start with. I would recommend to maybe give the video casino games some more time before jumping into the live games, or at least to play the live games when you aren't stressed. I'll go back to the video games for now…maybe I can undo the damage done to my Casino balance!
Are you also interested in trying Live Casino Games? Register your account at Dealers Casino today and check them out!