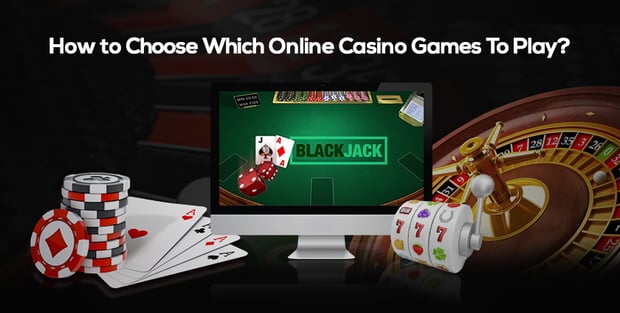 Part 3: Ready, Set, Go get the Account Started!

Anonymous

Published 29/01-2019
How much money do people put in when they deposit for the first time? I felt at first that I wanted to put in as little as possible and get out as much as possible. That is also partly why I choose Dealers Casino. The minimum deposit is only 10€, but if I only enter €10 then I only have €20 to play for… but if I decide to put in €25 that would mean I have €50 as a start capital and that seems like a fair trade.
After deciding how big my initial deposit should be, all I had to do was to get started creating an account. To be honest I was a bit nervous. What if I lose it all at once? What if the registration takes forever and I can't get started straight away? My recommendation is to push all those thoughts aside and grab the bull by the horn and get started! After all, if you don't try, you'll never know.
Through the FindFairCasino top list I entered the review to Dealers Casino and from there you can easily find the "Claim Your Bonus" button…

…then it's just two simple clicks and you are at the registration. From there it is just two simple steps and the account is open!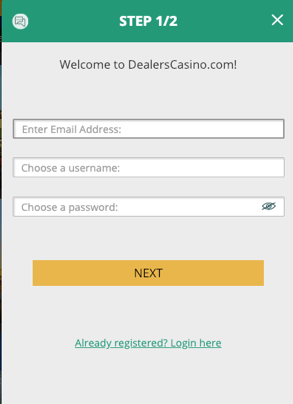 I must say I was really surprised by how fast and smooth the registration process was. I think I had imagined the process of signing up to be far more complex than it actually is. Phew…what a relief!
Once the account is open Dealers Casino simply leads you to the first deposit, where you can choose your preferred payment method and choose your preferred amount to deposit. Once the payment has gone through, you'll receive a deposit receipt where you can see that the bonus and the Welcome Match-Up bonus is automatically added! Very simple and user-friendly! The fun does not stop here however, as you at the end of the receipt can choose to play with your daily 20 Free spins.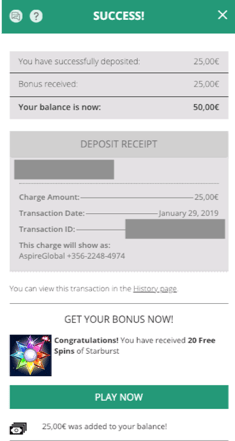 I'm really surprised by how simple it all was, and now I can't wait to get started!
You can also test your luck with Free Spins at Dealers Casino!