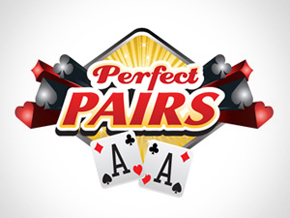 Part 32: Shall we try Blackjack again?

Anonymous

Published 14/04-2019
Since I could only deposit €10, I feel that I don`t really have that much to play with, which is why I should play what I like best ... Blackjack. PlayOjo has many Blackjack games, most of which are Live Casino games provided by Evolution Gaming. I didn`t really want to play with a real-life dealer today, so I chose to play one of the non-live Blackjack games. There were three choices, which in my opinion was a slightly limited collection after I played at Dealers Casino where there were several selections, but hey "You gotta take what you`ve been offered!".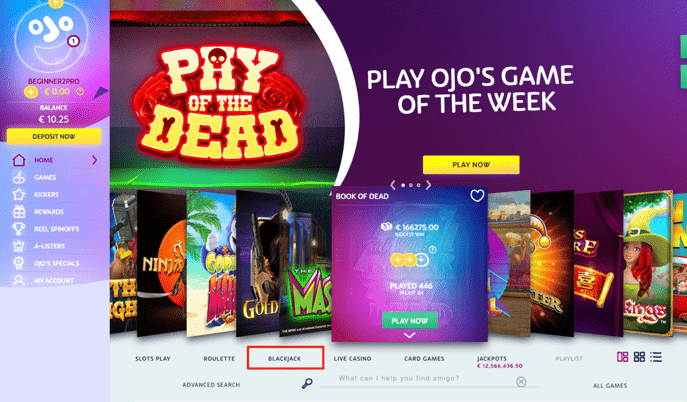 I chose to try the game called BlackJack - Perfect Pairs to begin with. Each time you point your cursor over one of the games on PlayOjo, it gives you information about what the biggest win has ever been on the game, how much PlayOjo pays back to play the game, and how many people have played the game in the past 6 hours. This is all very interesting information regarding the Loyalty Program and the popularity of the games.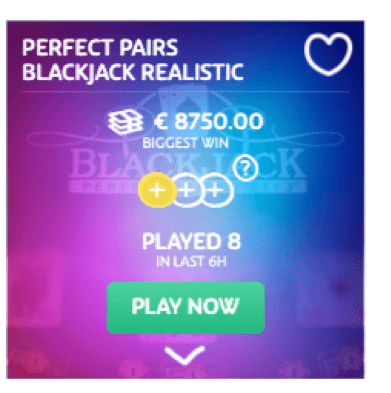 Above you can see the information I got when I pointed to the game - Perfect pairs. I think I would have liked the infobox more if it also contained information about minimum bets.
When I entered the game, I could see that the lowest bet possible was €1 and there is room for five bets. I only decided to play two hands, to begin with, with €1 wagers on both.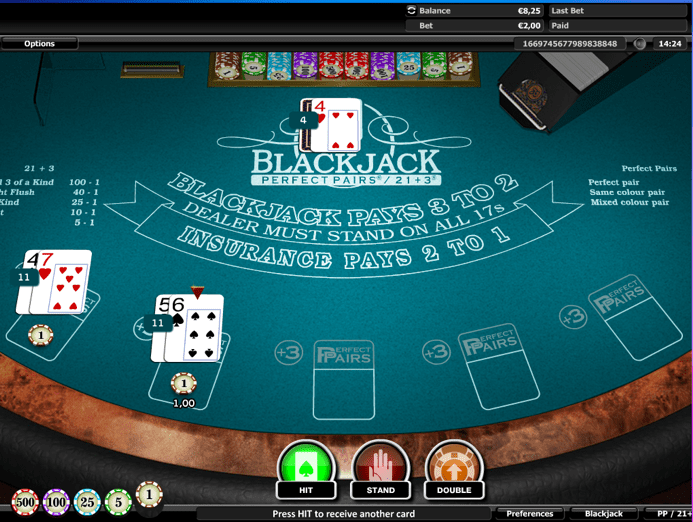 I ended up winning one hand and losing on the other.
I chose to repeat the bet and deal with my other hand: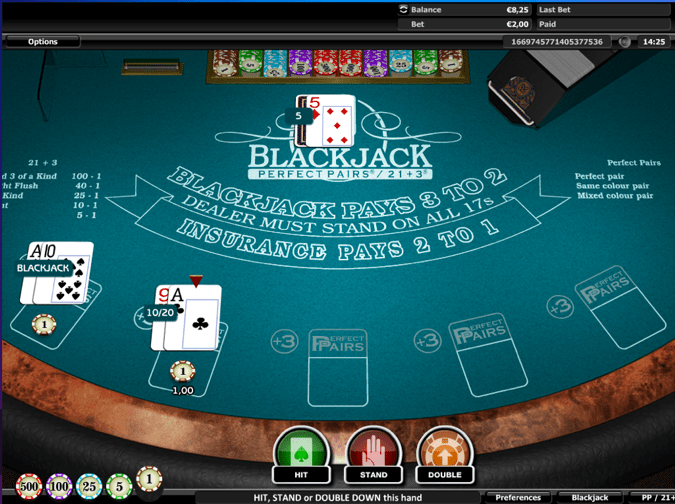 I got a blackjack and decided to stand on second hand with 20. I won both and won €4.5!!
Once again, I choose to repeat and deal. I got a queen and a 7 on my first hand and a 4 and 8 on the second. On the one hand with 4 and 8 I decided to hit twice and reached a total of 18. On the hand, I had a queen and a 7 I decided to gamble and Hit so I got 27 and lost. The dealer then got 19 and won ... now my balance was down to €10.75 again ... I decided to leave the game and see if I could win another day ...
If you also want to try Blackjack Perfect pairs, you can do that by Signing up to PlayOjo today!