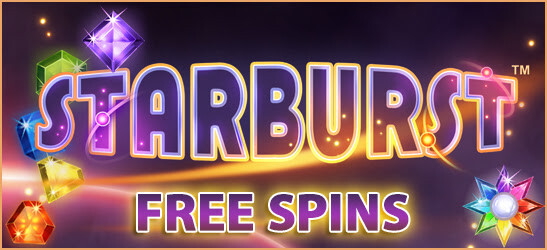 Part 4: Free Spins – Free wins

Anonymous

Published 30/01-2019
One of the main reasons for me choosing to start with Dealers Casino was the fact that they offer 200 Free Spins to their first-time players. You won't receive the 200 free spins all at once, rather 20 spins a day over the course of 10 days which for me was a perfect fit as it allows me to get familiar with different games without wasting valuable money.
Before I go in on how the first day has been, I must bring up this little fact: Free Spins, Extra Spins, No Deposit Spins, Bonus Spins, basically all mean the same thing. You get to spin without any negative affect to your casino balance. It's good to know this, because at first, I was a bit unsure about the different terms but after looking around… well it all basically means the same thing.
Get Free Spins for Starburst
Anyhow, the first 20 Free Spins you receive at Dealers Casino are handed out to the popular game Starburst™. Basically, this game is THE game, you can find it in 99% of all Online Casinos, so to get 20 Free tries for it is very exciting.
When entering the Starburst™ video slot game, a window pops up informing you about your Free spins.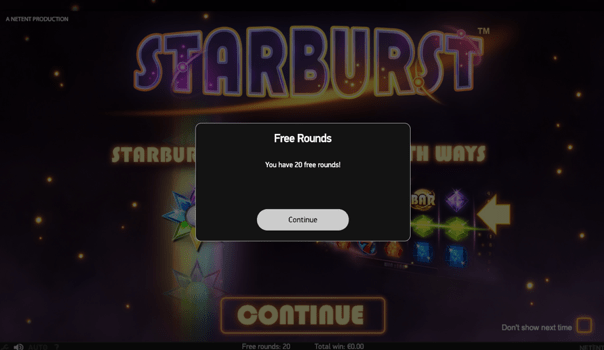 During the Free rounds you can't do any real changes to any of the game set-ups. The bet is 10, coin-value: 0.01 and the coins stay at 5000. For us newbies 'The Bet' is the sum you want to bet. So, "bet 10" means that you're betting 10 coins to the value of 0.01€.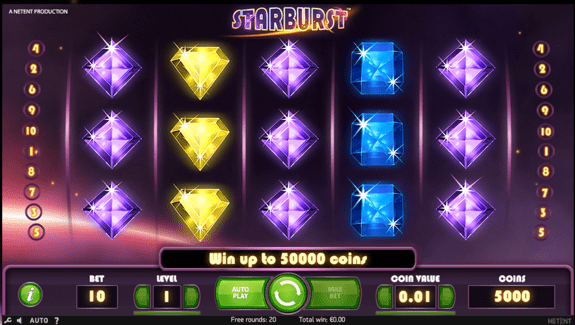 At the bottom of the game it says how many "Free rounds" you have left and the total win you've made. Here is a picture of my FIRST WIN!!! I won 0.05€…FANTASTIC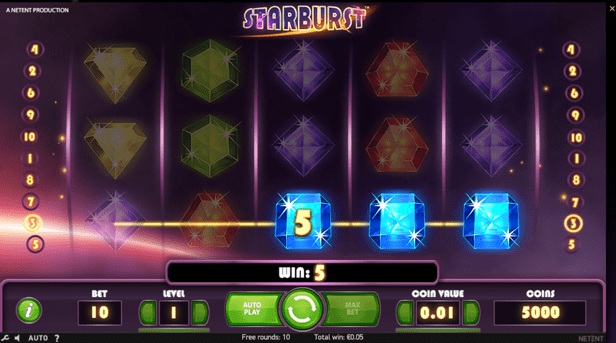 Starburst™ lights up and shows you the winning lines, that way you can learn which combinations create winning combinations!
I ended up winning 0.15€ not too much but it was definitely a fun way to get started! When the Free spins have been used another pop-up window appears informing you hereof.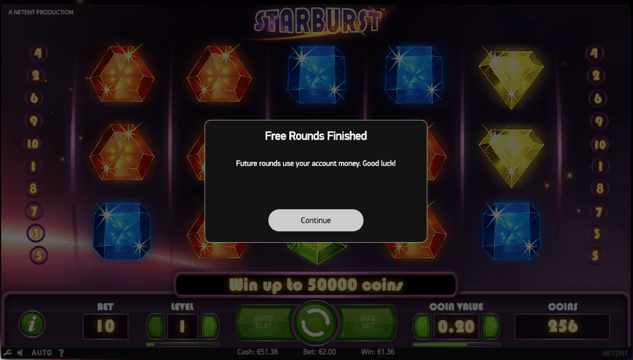 I continued trying some more spins with my own money and playing around a bit with the Coin Value and the bets, leading to an overall increase of my balance to 51€! At least so far, I am not losing… hehehe.
My overall impression of this first try with Free spins is that they are easy to get and use, I basically only had to login and choose the game! I was a bit disappointed by how small the winnings were, but I do understand why the Free spins have the lowest coin value. And now I have really gotten started… I still feel like a beginner, but a beginner with some spins in my experience backpack!
You can also test your luck with Free Spins at Dealers Casino.