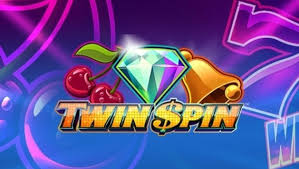 Part 5: You Free Spin me around

Anonymous

Published 02/02-2019
The spinning has begun. I've now been playing for two days, and I must say I'm really getting a hang of it. It's fun to play around with the different coin values and testing some of the different games that are around.
As a new member you are given 20 Free Spins each day. So as soon as you log in, the pop-up window displayed beneath appears, informing you for which game you have received the Free Spins.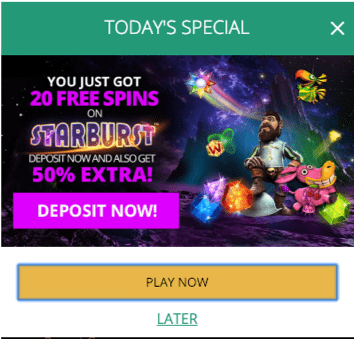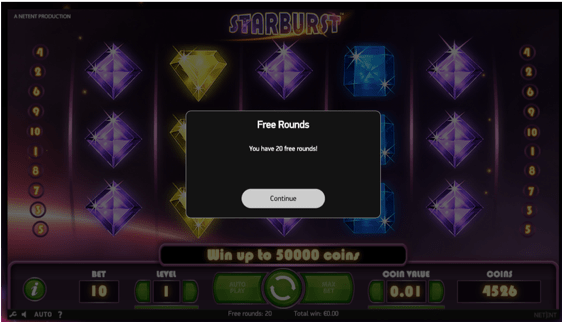 The first two days you will receive spins for StarbustTM. This video-slot feels modern and exciting and has an impressive gameplay. It is still hard sometimes to know whether or not you have spun a win or not, but the game will tell you every time you have won so you don't have to worry that you are missing out. I manged to get a BIG WIN and I won a whooping €1.9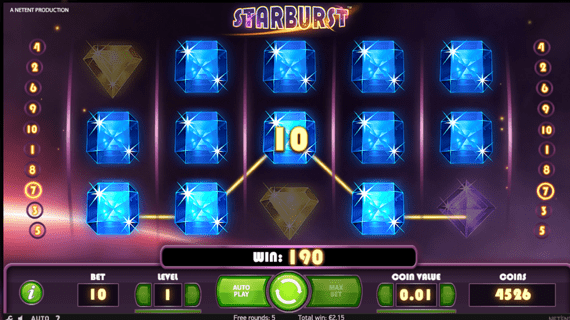 On the third day, you receive 20 Free Spins for another video slot called Twin Spin! I was excited about trying this new game that I hadn't tried before. Unfortunately, when I logged in the usual pop-up window confirming the Free Spins did not appear. I contacted the support, which regrettably took quite some time to answer, to inform them about my issue. They were very helpful but due to a technical issue they couldn't add my Free Spins to Twin Spin and therefore they asked if I would be ok with receiving free spins for StarburstTM again.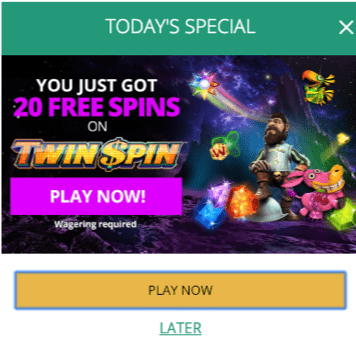 I was a bit disappointed as I had seen these Free Spins as a perfect opportunity to try different games but since they were so helpful, I accepted. I didn't win too much on these Free Spins and I still felt like testing Twin Spins! So, I did try it out!
Twin Spin is a classic-looking casino slot game. I really like the graphics of the game which makes it easy for me to pretend that I'm in a real casino.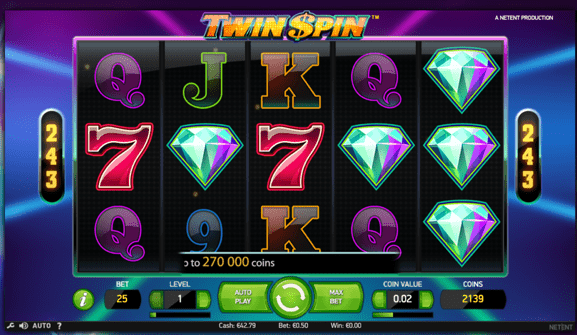 The lowest coin value is a bit higher on this game and so is the amount of coins you are betting. That means that your lowest bet is higher when playing Twin Spin but that also means that the winnings are higher!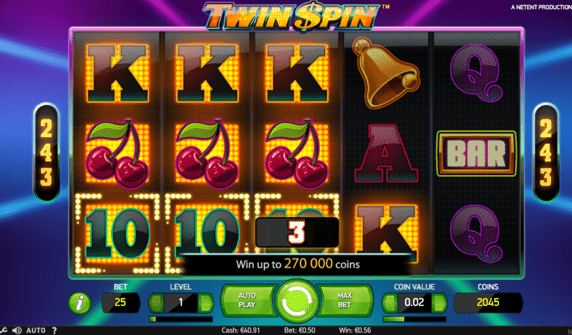 As with the StarburstTM slot, the gameplay lights up and shows you the winning lines. That is very practical as the winning lines are different from game to game. Unfortunately, I didn't win too much but it was nice to have tried another game!
I'm excited to try out a new game tomorrow!
You can also test your luck with Free Spins at Dealers Casino.