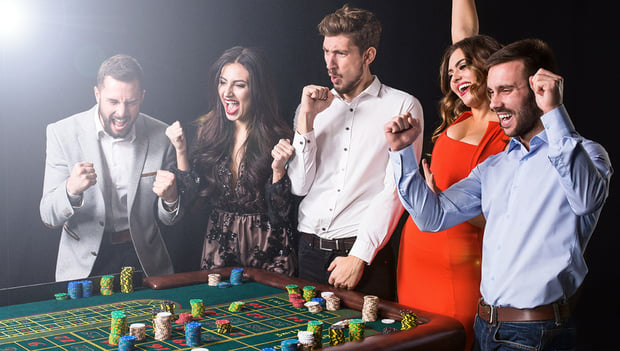 Part 59: It is not about the cards you've been dealt; it is how you play your hand…

Anonymous

Published 24/07-2019
Card games are great. You can play card games against other people or alone. Cards can make time go fast when time otherwise feels slow. Card Games can entertain and in Casinos (both online and in real life) they can earn you real money.
Blackjack is one of the games that from the moment I learned how to play it I liked it. I don't even have to beat the casino and win, but that of course helps, to feel that it is fun. I would also put it like this: A casino without Blackjack – Is not a casino!
With that said, I think it's time for us to try The Blackjack games offered by Mr. Play.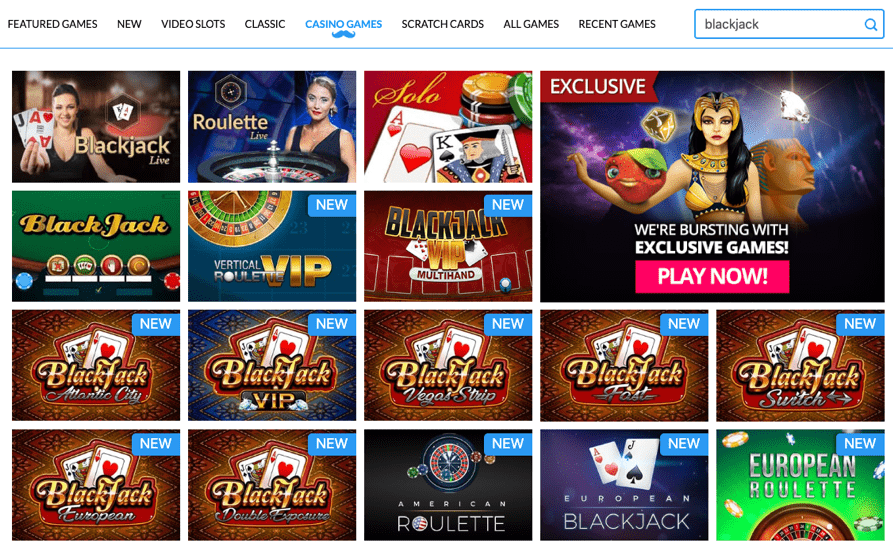 Mr Play has several different card games to choose from, several of which I have also played on Dealers Casino or PlayOjo, therefore I decided to try some other ones that I had not tried yet.
Blackjack – Atlantic City
This RedRake gaming version of blackjack is really nice, I don't know why it is called "Atlantic City" and what difference that makes. But the game allows for four hands to be played. The minimum bet is €0.2 while the maximum bet is €50. One small thing that you cannot do in this game is add your bets… so if I want to bet €0.4 I can't since you can't put two chips worth €0.2 on the same place. This small thing annoyed me a bit as I do like betting weird amounts.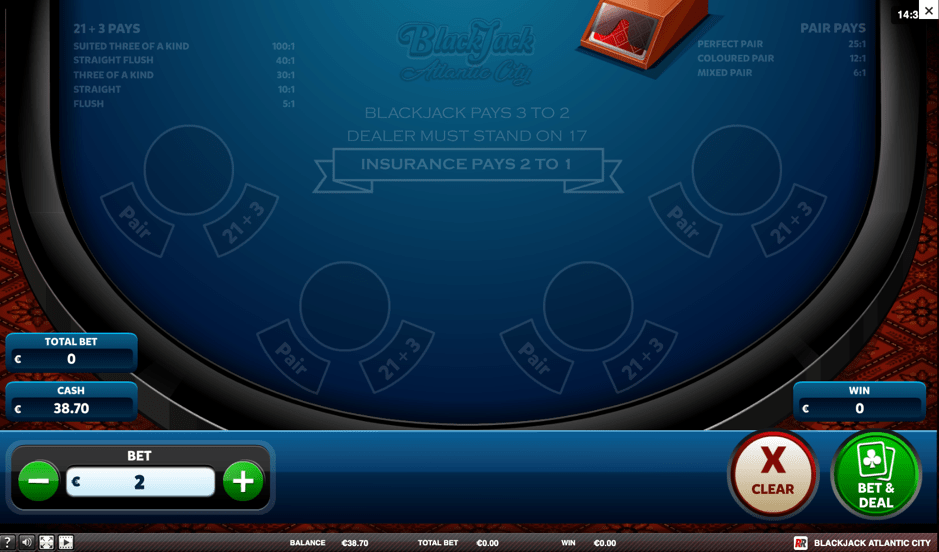 The major things we players need to take note of is how much it pays and where the dealer must stand. In this game Blackjack pays 3 to 2 and the dealer must stand on 17 which is fair. The game also includes more instructions… so for example a perfect pair pays 25:1 or a Flush pays 5:1, but I don't really understand how you get the flush… I guess that is by hitting on more cards so that you have enough cards to create a flush.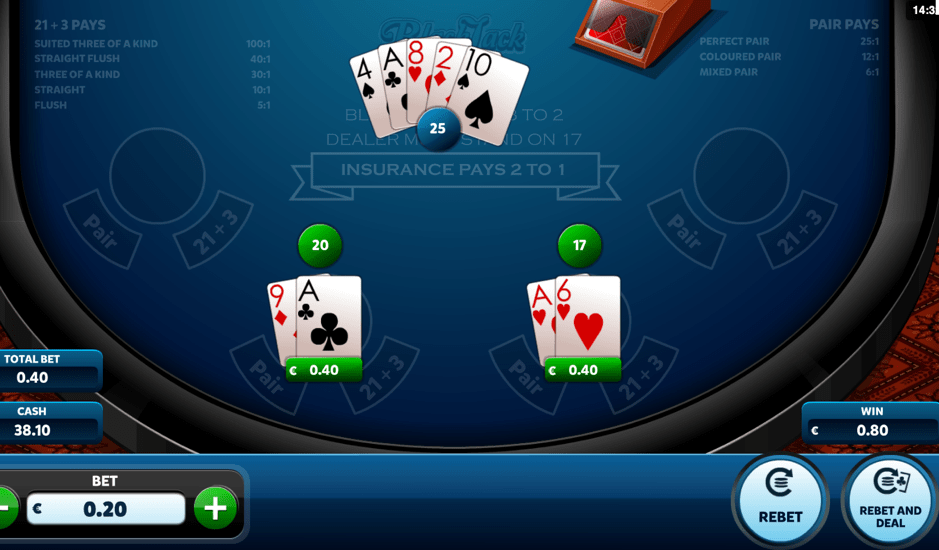 I really like the graphics used on this game, the better the graphics the more enjoyable an online casino experience becomes in my opinion.
Blackjack Multihand VIP
I wanted to try this blackjack game from Gaming Premium-Casino Solutions, but the minimum bet is €25 while the maximum is €500… That is definitely way out of my league so I left it…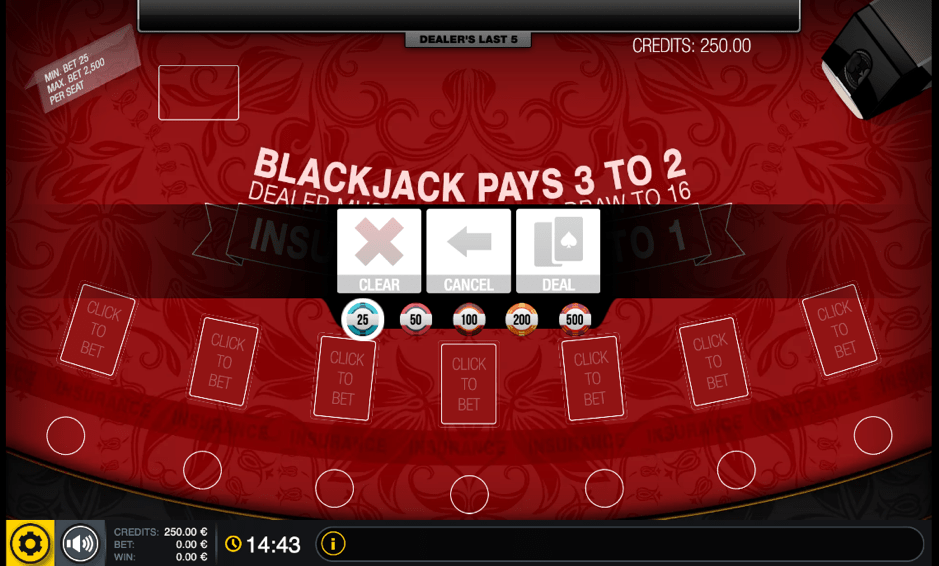 3 Card Solitaire
Ok ok, this is not blackjack…but like who has not loved to play solitaire in their life? It is basically the easiest game to play when you are alone with a deck of cards! Also, who has not played Solitaire on their PC once in their life? Am I right or am I right?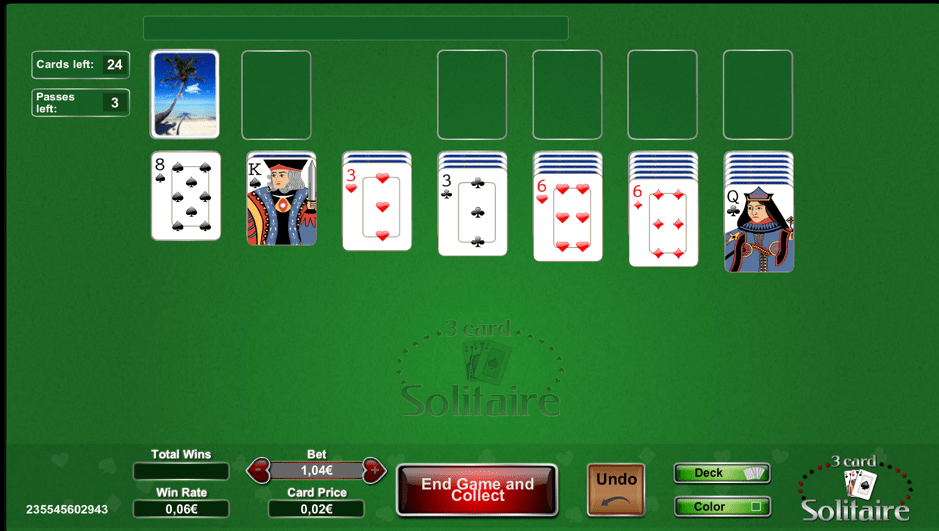 Conclusion: Solitaire is tough, way tougher than when you just play it with a deck of cards to entertain yourself and even tougher than when you used to play on the computer as a child. IT IS SO HARD!
You choose to bet a certain amount, and that amount coincides with a win rate, so I bet €1.04 which made my win rate €0.06 and the more you build the more is counted as a win. So, If I set an Ace on the top that counts as €0.06 and if I set a 5 black under a 6 that counts as €0.06. Then you only have three passes of the deck to finish the game… I think I played 5 games and was not close once!
This was the closest I got: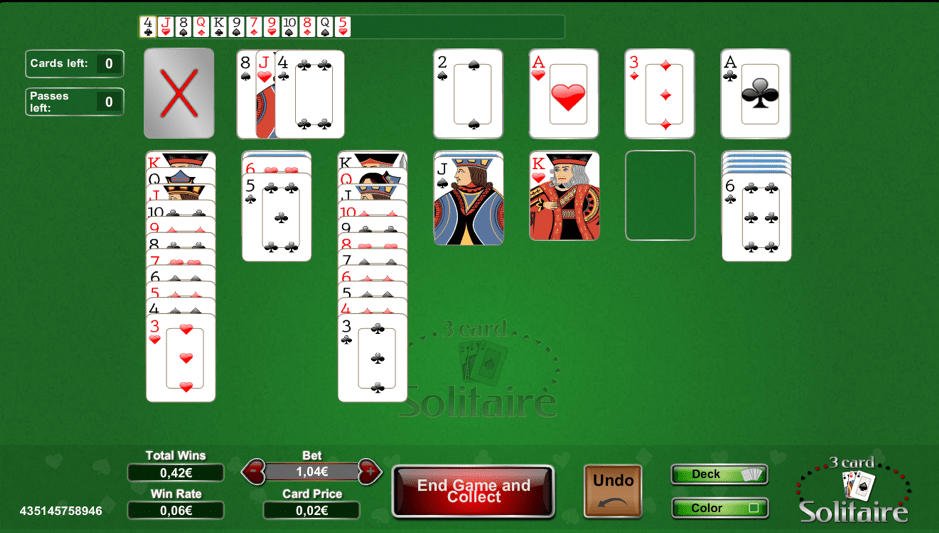 Despite it being tough I must say I really liked it. It might not be your typical online casino game, but it is definitely a card game that I really like and that I want to win on.
Are you also ready to play some cards – collect your Mr. Play welcome bonus to get a 100% Match-up on your first deposit!