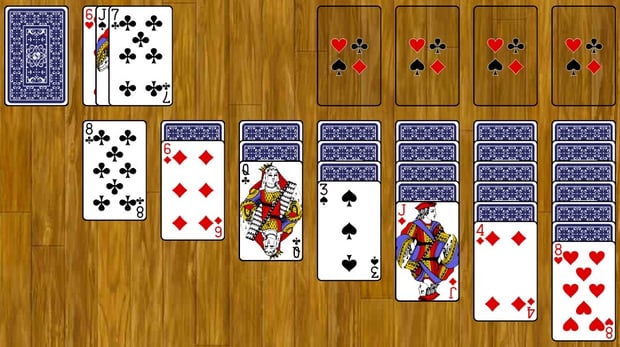 Part 60: Have some patience with patience

Anonymous

Published 26/07-2019
After playing that solitaire game I got to thinking of patience. Patience is another name for solitaire. A classical card game that teaches you to be patient, because it is a VERY hard game to win on, and you need to think strategically to win and have patience that the cards will end up where they are supposed to.
Patience is also something we need to have when we play online casinos, because not every time we play will be a win. Some days we will lose more than we thought we were and then we need to be patient with ourselves and our casino experience (I talked a bit about this in part 46). With patience we can keep our cool and enjoy our experience instead of dreading it and making it into something negative.
I don't know about you guys, but for me…it is important that we as a community keep our cool and enjoy our games, that we are patient not only with ourselves but also with our casino experience. That we accept that we will lose sometimes.
All this talk about having patience made me excited to try more solitaire games on Mr. Play.
Mr. Play has two Solitaire games, the first I tried was called "Casino Patience" while the second was called "3 card solitaire".
In the first game, I decided to bet €2.6, that meant that each card I managed to get in the suit stack I would get €0.25. On the first hand I played I ended losing €0.1 but on the second one I won €3.5, which isn't a lot considering I bet €2.6 to begin with. I liked the graphics of this one a lot, and I like that you get to get through the stack one card at a time. I would personally prefer if it was possible to have one more shot to go through the stack, it is really tough with just 1 try!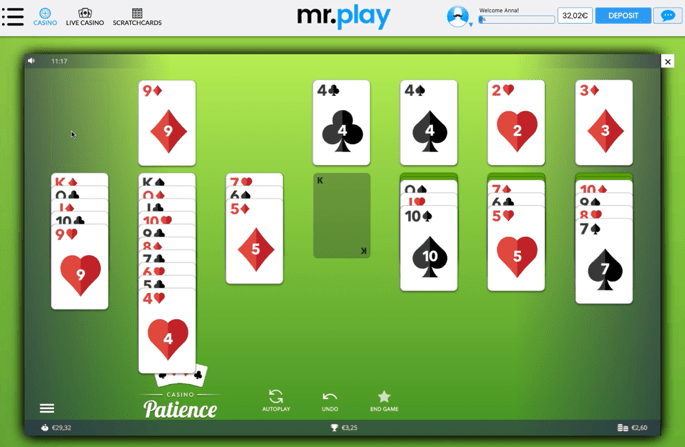 In 3 card solitaire I bet €1.04, meaning that for each card I would get in the suit stack would be worth €0.06, I ended up winning €1.14 on my first hand and on my second only €0.18. I must say that I think I like the casino solitaire more as the graphics are more crisp, but what I do like about 3 card solitaire is that you get to go through the stack three times, and you can always see what cards are still in the stack.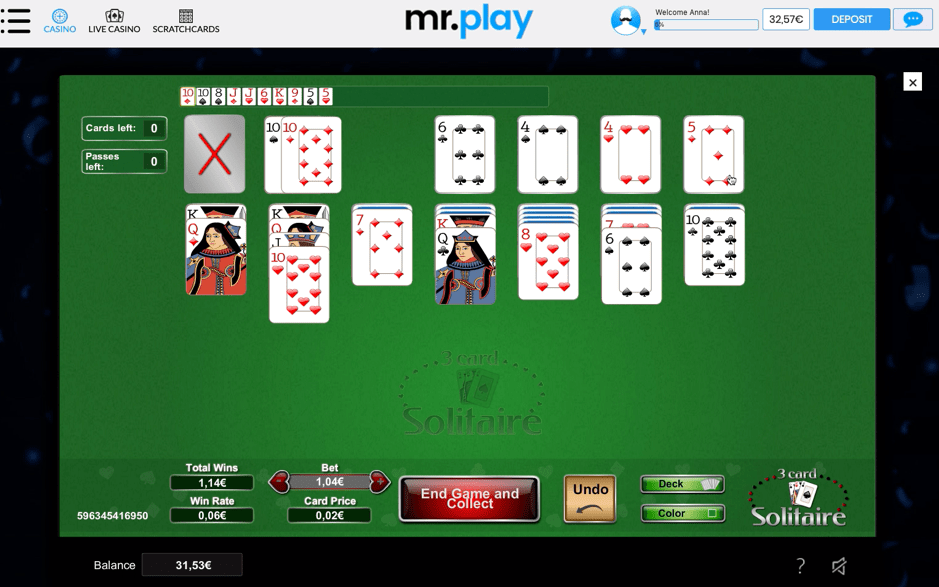 Keen on trying to win some money while playing this classic card game? Right now Mr. Play Doubles your first deposit up to €200!