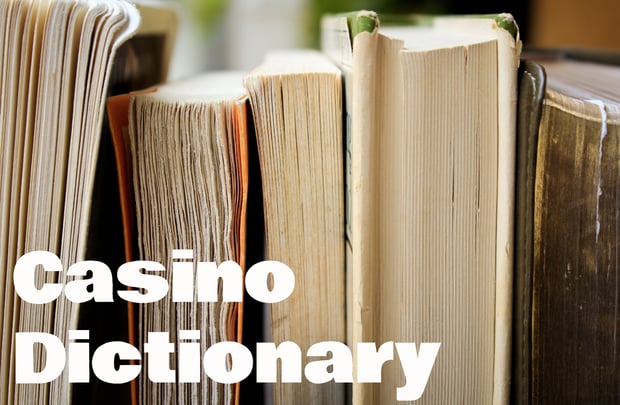 Part 90: The part where I become a dictionary

Anonymous

Published 11/11-2019
I don't know if you know this, but before I started this journey, I had no idea about online casinos. I knew what real casinos were, but to be honest I had only played a little bit of Texas Hold'em and watched the movie 21. So, in other words, I did not know much. Now I would claim that I have a better understanding of how online casinos work for us players. I wouldn't yet say that I am an expert…not even close, but the great thing about online casinos is that they are still possible to enjoy without knowing too much. Admittedly, the more knowledge you have the more you understand, and the more fun online casinos become.
One of the first things I noticed was that there was a whole jargon associated with online casinos which I knew nothing about. I was reading a game review and words like: RTP and Volatility were being thrown around and I didn't understand what they meant and where about. This made it difficult to form an opinion about a game when I didn't understand what half the game review was talking about. Luckily FindFairCasinos has a glossary where the most important words are listed. This glossary helped me through a lot of the first online casino reviews and game reviews I read, and I thought I would share with you the words and expressions I've found to be the most important.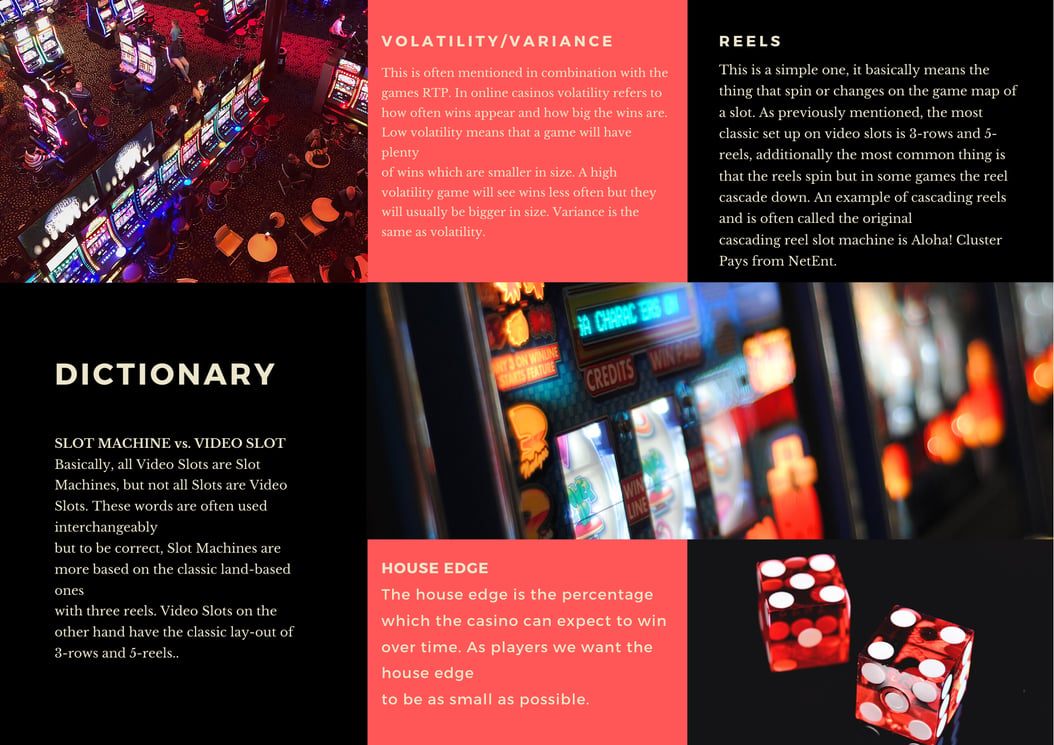 Slot Machine vs. Video Slot
Basically, all Video Slots are Slot Machines, but not all Slots are Video Slots. These words are often used interchangeably but to be correct, Slot Machines are more based on the classic land-based ones with three reels. Video Slots on the other hand typically have the classic layout of 3-rows and 5-reels.
Reels
This is a simple one, it basically means the thing that spin or changes on the game map of a slot. As previously mentioned, the most classic setup on video slots is 3-rows and 5-reels, additionally, the most common thing is that the reels spin but in some games the reel cascade down. An example of cascading reels is "Aloha! Cluster Pays" from NetEnt, which is often referred to as the original cascading reel slot machine.
NetEnt's games can be found on 666 Casino so if you want to try the cascading reels out you can do so by claiming the welcome bonus here!
RTP
RTP stands for Return to Player. It stands for the percentage of the bet that you will win back. To be clear, the percentage is not representative for each session you play but rather represents a result over time (generally over a million plays). To calculate the RTP the amount returned to players is divided by the total amount of bet by players. The higher the RTP the better it is for the player as it means that the edge of the house (casino) is lower.
Volatility/Variance
This is often mentioned in combination with the game RTP. In online casinos, volatility refers to how often wins appear and how big the wins are. Low volatility means that a game will have plenty of wins that are smaller in size. A high volatility game will see wins less often but they will usually be bigger. Variance is the same as volatility.
House Edge
The house edge is the percentage that the casino can expect to win over time. As players we want the house edge to be as small as possible.
Free Spins
This is something we players love. Free Spins can be given from the casino themselves and usually requires a deposit. There are also Free Spins to receive as part of some video slots extra features. For example, if you play "Book of Dead" from Play'n Go landing three of the Book-symbols will reward you with 10 Free Spins.
Book of Dead is available at 666 Casino – Use the welcome bonus to spin some wins!
Scatter and Wilds
The first time I read a game review, it talked about how fantastic the Wild and Scatters where and I was sitting there like a question mark wondering what the hell that meant. Well… a scatter symbol is a symbol that will always pay-out no matter its position. Often the scatter symbol triggers the slot machines game features.
A Wild, on the other hand, is a symbol which if near a winning combination will turn into the symbol creating the win. The wild symbol, substitutes for any symbol except the scatter. In some games, there is only one wild which acts like both the wild and the scatter but in most cases, there is both a scatter symbol and a wild.
Gamble Feature
This is a feature that certain slot machines have, which lets us gamble the win. So, if I win €2 on a spin, I can choose to gamble it and usually the gamble feature will then double my win. The gamble feature looks different in different slot games but usually a pop-up window appears with a small gamble game. This pop-up game can include a game where you roll the dice or guess which color a certain card will have.
There are a million other good words to know, but these are some of my favorites and some of the ones I feel are the most important to know as a new player.
Feeling pumped with knowledge? – Claim your 666 Casino bonus and put that knowledge to use!