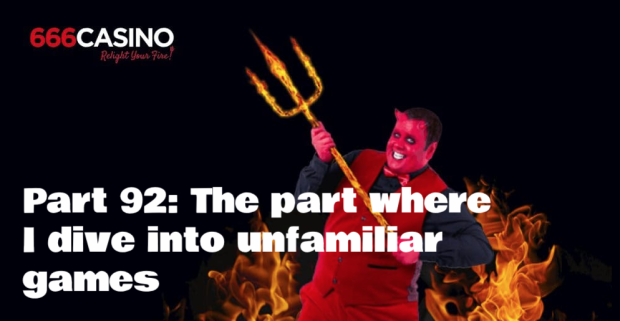 Part 92: The part where I dive into the unfamiliar games

Anonymous

Published 19/11-2019
Under the section "Table" on 666Casino I found a lot of games I had never heard about before. With titles such as "100 Bit Dice", "Mississippi Stud", and "Fortune Pai Gow Poker" I felt like a deer in headlights… I have no idea what these games are or how to play them. Therefore, I thought… why not play them. We will together discover how you play these games and if they are any fun!
To my help I used the handy FindFairCasinos guide "How to play Caribbean Stud poker" since I guessed that at least some of these games had something to do with this. From this guide, I learned that Stud Poker is a five-card poker game played against the dealer instead of against your fellow opponents. There is no point in bluffing when playing this game, which fits me perfectly since I'm not a great bluffer. In addition to this, all we as players aim for is to get a better hand than the dealer. To be fair, I'm not great at poker in general so knowing what consists of a good hand or not is a small issue that might become a big issue in these games… but you never know until you've tried them out, right?
I decided to try "100 Bit Dice", "Swap the flop", and "Odd one in" hoping that these games could give me some knowledge in the world of stud poker.
100 Bit Dice
This game is brought to us by Relax Gaming. The game aims to bet Green if we believe that the dice will roll "under" or bet Blue if we believe that the dice will roll "over". The dice can roll anywhere between 0 and 100 and we can change our bet size and how big we want the green or blue area respectively to be.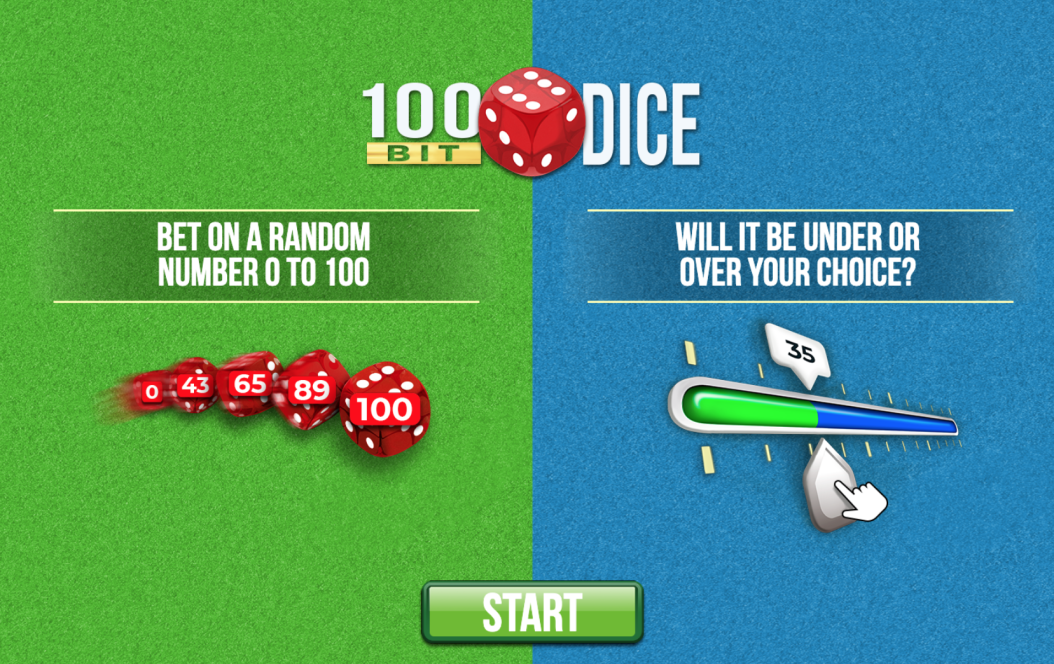 On the other side of the game map we can keep track of our progress, see the result history, how much we have wagered, how many bets we have made, how much we have won, etc. It is great that the result history is as big as the game itself, this makes it easy for us as players to keep track of our game, make educated choices when betting and hopefully win more often. But to be honest even with the very detailed result history it did not make things easier for me as you can see… 10 losses and 2 wins…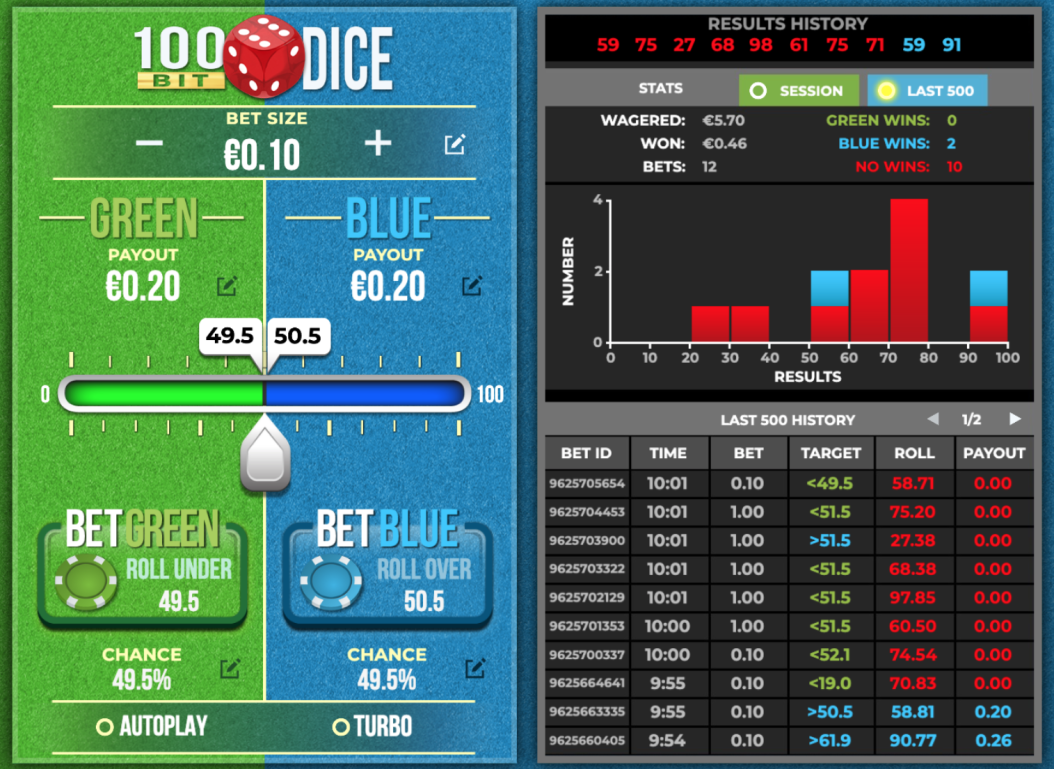 One thing I can say, is that this game was not at all what I expected since I thought all of the table games would be some kind of poker game. I was pleasantly surprised by the fact that there was a very different game like "100 Bit Dice" available in this category.
Swap the Flop
This is a casino game developed by Leander/Seven Deuce Gaming. The aim is to get a higher combination than the dealer, so as in Caribbean stud, we are competing against the dealer and not against other players. Getting a Royal Flush is the best hand a player can get as it gives you 200x the bet. A Royal Flush consists of an Ace, a King, Queen, Jack and a 10 all in the same suit. To play this game it is good to keep track of the poker hands.
Unfortunately, before I could start playing, I noticed that I did not have enough Cash Balance to play.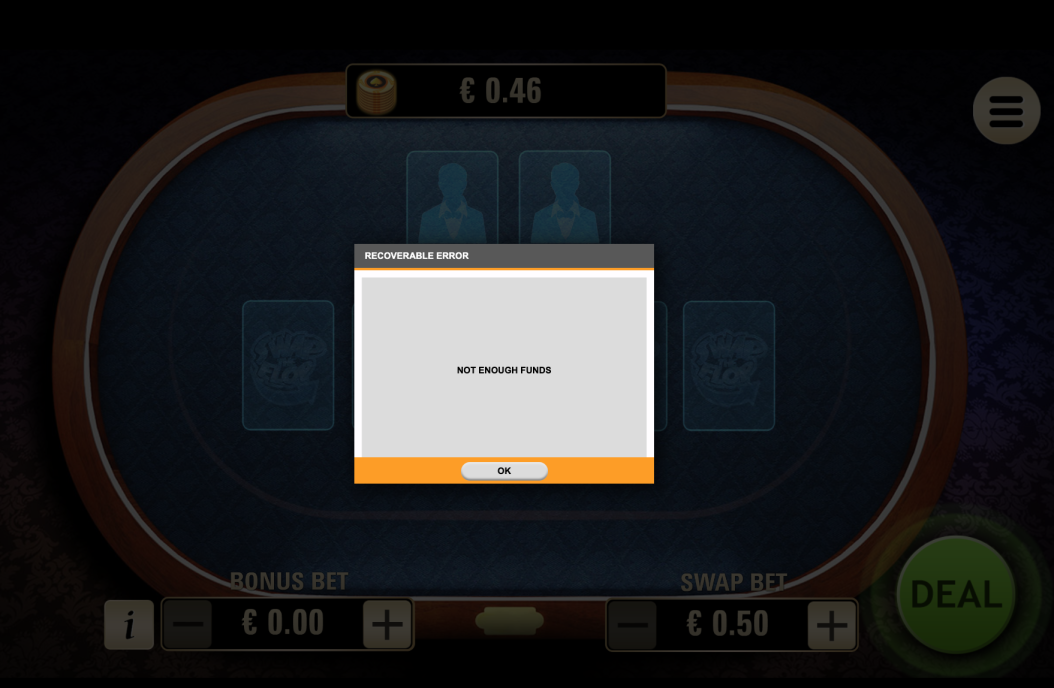 Therefore, I never got the chance to try this game out. That does not mean that I will not try it out ever but for now I will have to use my bonus money and unfortunately, you cannot play any type of game with the bonus money.
Use your deposit money to play "Swap the Flop" at 666 Casino, here!
Odd one in
Because this 1x2 Gaming online casino game has a minimum bet of €0.1 it meant that I could try the game out at least 3 times. This game aims to get an odd value when the two cards are added up. All picture cards count as 10 while all the Ace cards count as 1. There are plenty of different bets that can be made. For example, we can bet that we get any odd number, or we can bet on the specific odd number we think we will get, we can also bet what suit the cards will have.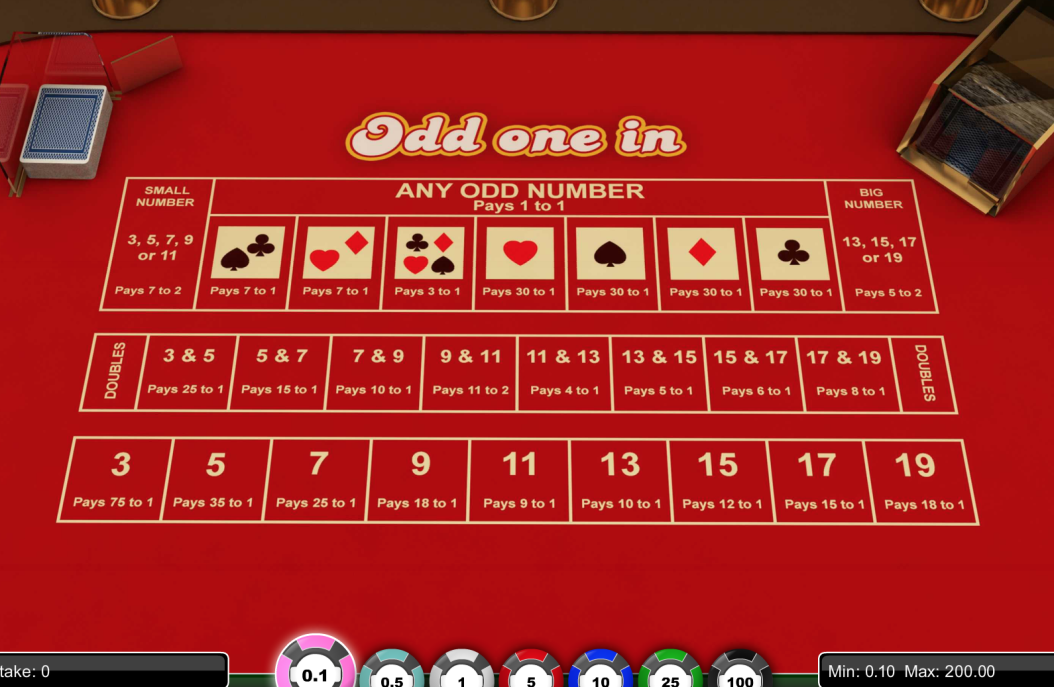 Because I only have €0.46 and only have four chances to play, I will bet on "any odd number" to start with.
We can choose to play on several different boxes as well. Once a bet has been placed, we press deal and the two cards are dealt and turned and we see if we have won or not.
Bet 1: I put €0.1 on "any odd number" and was dealt a heart of 10 and 9 of clubs = 19, an odd number. In other words, a win!
Bet2: I bet on the four suits, got a queen and a four of clubs… 14… not an odd number, no-win.
Bet 3: "Any odd number" bet again. 15! I won!
Bet 4: I bet €0.1 on any small number that is: 3, 5, 7, 9 or 11 will give me a win. I got 12 and lost!
Bet 5: I tried the same bet again. Was dealt 16, another loss.
I must say that it`s quite a shame that it is not possible to bet on the cards being an even number. It means that all even numbers equal a loss.
Bet 6: I bet €0.2 on a big number. 13, 15, 17 or 19 will give me a win. I dealt and a 4 was dealt, which meant that I lost.
Bet 7: My last bet. I decided to bet it on "Big Number" again. I was dealt a 6 and a 3 … a small number. I lost.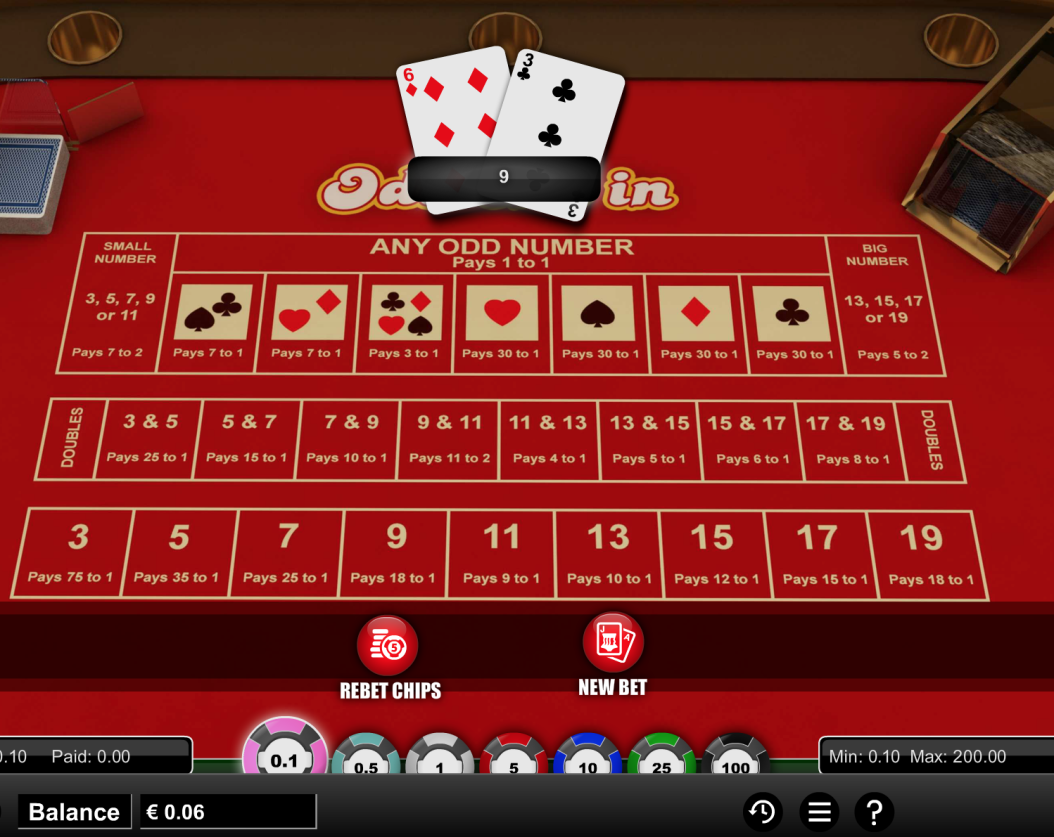 You can also enjoy this easy card game; it is available on 666Casino right now – use the link and get a fabulous welcome bonus!
I feel like it's a shame that the bonus balance can't be used to play any type of online casino game. Which games you can play is clearly stated in the terms and conditions which of course is fair enough, but I believe that in general, it would be fairer if all games could be played with both the casino balance and the bonus balance. I also wish one could use the bonus balance before the cash balance, but I understand why this is not done at any online casino.
These untraditional table games are very entertaining, and I wish I could play them some more. Especially the second one there I did not really even get the chance to try. Exploring new games and learning new things is part of the online casino experience and something I believe we should all dare to do more often. Therefore, I suggest you take the chance and claim the 666 Casino bonus. You will get a match up on up to €666 and 66 Free Spins!
Claim your 666 Casino Welcome Package Here!