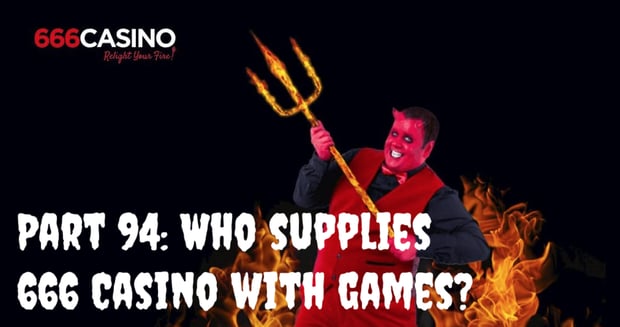 Part 94: Who supplies 666 Casino with games?

Anonymous

Published 29/11-2019
I love a casino where you can easily find information about who supplies them with games. 666 Casino is one of these where it is childishly easy to find out what games are provided to the site by what developer. It is easy to filter on the providers and what is even greater is that we players can also filter on which games are the most popular by the chosen provider, we can sort the games from A-Z or choose to look at the most recent games.
As you guys already know I love finding out more about the different providers, and FindFairCasinos has a whole section about different game suppliers, which licenses they hold, and what makes each of them special. One of the things I appreciate about 666 Casino is that they have a mix of well-known providers as well as some smaller highly innovative ones as well. Therefore, I've decided that for this blog post, I'll go further into detail concerning some of the game suppliers which are less known to me. Hopefully, I can try out some of their slot machines, as I am still only playing with my bonus balance.
Below you can see a video of me playing the games and beneath comes a short explanation of the different game suppliers and the game I tried out!
Stormcraft Studios
From South Africa comes this new game developer who often focuses on bringing pop culture to slot machines. Many of their games are based on movies or TV shows which are well known to us all. They supply games exclusively to Microgaming which then provide casinos with Stormcraft Studios' titles. Some of the titles that they have worked on include "Immortal Romance", "Terminator 2", and "Jurassic Park – Online slot". These games cannot be found under the Stormcraft Studios filter but rather under the Microgaming filter.
The supplier does not hold any gambling licenses but when the games come through the Microgaming platform they are still put through the same testing that all the other Microgaming games.
The games we find under the Stormcraft Studios filter include "Agent Jane Blonde Returns", "Jingle Jim and the Lost Sphinx", and "Break Away - Deluxe". I decided to try "Break Away - Deluxe".
This game takes place in an ice-hockey rink with several aspects of the cold sport being present. One can choose between how many pay-lines one wants to play and how many coins one wants to bet on each line, so it is a pretty good game for any type of player. It has some special features but unlike some games where you feel like the focus is more on the features than the actual game, this does not overdo it.
Bet 1: I played around with the number of bet lines, coin size, and coins per line and ended up betting €0.88, no-win.
Bet 2: No win
Bet 3: Thanks to some scatters I managed to score a €0.12 win. This slot machine has the feature that when a win is registered the symbols which make up the win disappear and give us players another chance to win on the same spin with new symbols. Unfortunately, I did not so €0.12 was my win.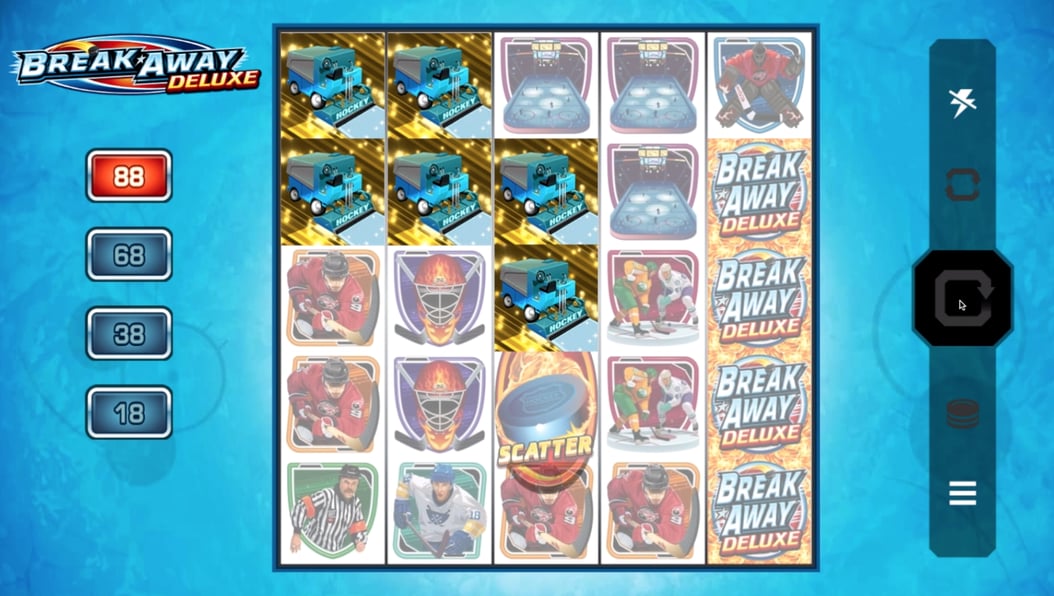 Bet 4: I decided to only bet on 18 lines instead of the original 88, no win
To watch the rest of my bets, check out the video on top, if you rather want to try this game out yourself you can do so here!
Concept Gaming
Another game supplier I have not previously heard about is Concept Gaming. This supplier was founded in 2010 in Cardiff. They only create games in HTML5 which is great as flash is becoming outdated and often requires extra downloads. This developer also does not have any licenses but cooperates with Leander Gaming who holds a UK Gambling License.
Only one of their games is available at 666 Casino – Namely the "Fruit Loot Reboot" title.
This game is stacked with classic casino symbols like the number 7, the bar symbol and the many fruit symbols. Unfortunately, this is one of the slot machine games that are not available to me at the moment because I am playing through my wagering requirement.
You can play it by depositing money when you create your 666 Casino account – if you sign up today you will receive a match-up bonus of up to €666! Register here!
Bulletproof Gaming
The third and last game supplier I will be looking into today is Bulletproof Gaming. They also cooperate with Leander Gaming but compared to Concept Gaming, this game supplier holds their license with the UK Gambling Commission and best of all, they are tested by NMi. NMi is an independent specialist for testing of online games. This game supplier was founded in 2015 in England.
There are only two of their games available on 666 Casino in the form of "Dragon Lore" and "Blackbeard". I decided to try the latter.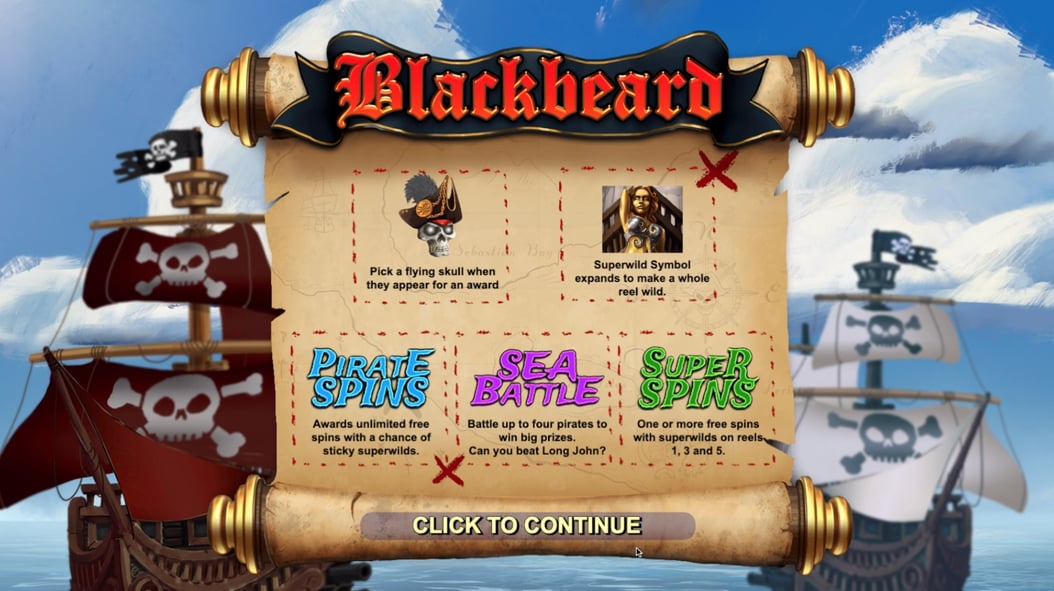 Bet 1: Because I wanted to make sure that I would get a lot of spins on this game I decided to take the stake down to €0.2/spin. On it, I won thanks to high-value Blackbeard symbol an impressive (?) €0.5 win.
Bet 2: No win
Bet 3: Three scary-looking skulls appeared in the background. From the intro page, I knew I had to click on them so I did…frantically, I might add… the skulls then became more distinct and Mr Blackbeard appeared with the message "Pick a skull". I picked the middle skull and was awarded a super wild. The wild then took up the entire 4th and 5th reel, and despite this awesome feature, I did not win.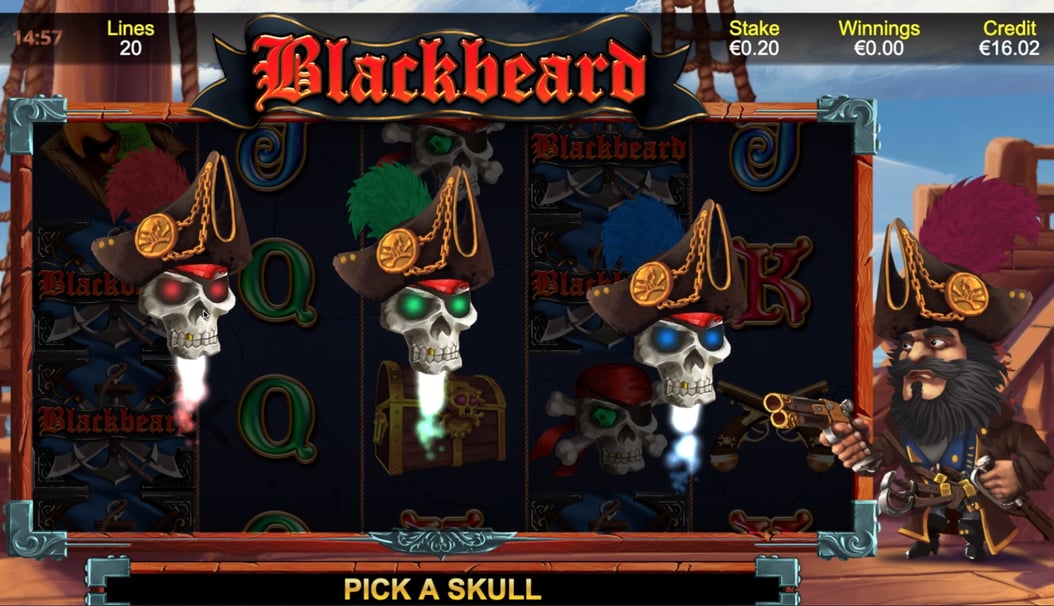 Bet 7: a small win on bet line 3 - €0.08 cashed in!
Bet 8: Nothing
Bet 9: Thanks to a wild I managed to win €0.04… another massive win… (can you feel the sarcasm?)
Bet 12: I decided to once again change the betting amount around. I turned up the stake to €0.4 per bet. No win
Bet 13: A €0.08 win!
Bet 15: Once again the skulls came up… but I was sleeping…or I was not paying attention, because I didn't press on them which meant I lost my opportunity to bring home a cool feature and the skulls disappeared. Neither did I win on this spin.
For more views of my spins, check out the video on the top of this post.
My favourite of these three games was the Bulletproof Gaming title, even though I at times sounded pretty sarcastic about my small wins. I think it was partly since I always felt safe when playing it, as I knew that the game had been tested by an independent testing agency as well as developed by a company with a gaming license. Moreover, the graphics and animations where more thought of entertaining.
If you press on the link below today, you will get a Match-up on up to €666 along with 66 Free Spins to the popular online slot "Book of Dead". This will allow you to play "Blackbeard", "Fruit Loot", and many many other games. Claim it before it's too late!