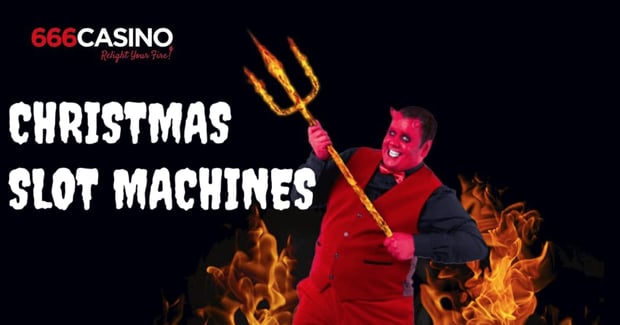 Part 95: Christmas spinning!

Anonymous

Published 18/12-2019
Part 95: Christmas spinning!
Can you guys believe how fast Christmas is approaching? It's only two weeks left and then one more week left of the decade. Could you imagine being where you are today 10 years later? I sure couldn't… now I don't want to get nostalgic but rather celebrate this end of a decade with great Christmas spins! 666 Casino does not only have scary slots, but they also offer Christmas themed-slot machines.
Therefore, I thought for this last post before Christmas I would go through some Christmas slot machines. The casino has fun and interesting games with Christmas as their theme. I decided to try three, but, before I could start, I needed to deposit some money because unfortunately, I didn't manage to complete the wagering requirements within the acquired time and therefore I have no funds available in the casino balance account at the moment. The minimum amount possible to deposit is €20 so even if I would've preferred to only deposit €10, I had to deposit €20.
Before depositing, I decided to check if there were any fun offers to be able to take part of. 666 Casino has an offer called "Manic Monday", this gives players the chance to receive a 10% Match-up bonus on up to €50. There are 35x wagering requirements as terms on this promotion. I decided to take part in it!

Now that the money was in my account I decided to start with "Jingle Spin" a slot machine from lovely NetEnt.
Jingle Spin
This slot machine from NetEnt is built up by 5-reels and three rows. The game invites us to the Christmas elves workshop where they create fantastic wins. The symbols are made up of traditional casino symbols "A, K, Q, J and 10" but in this game, they are Christmas decorations you can hang on the tree.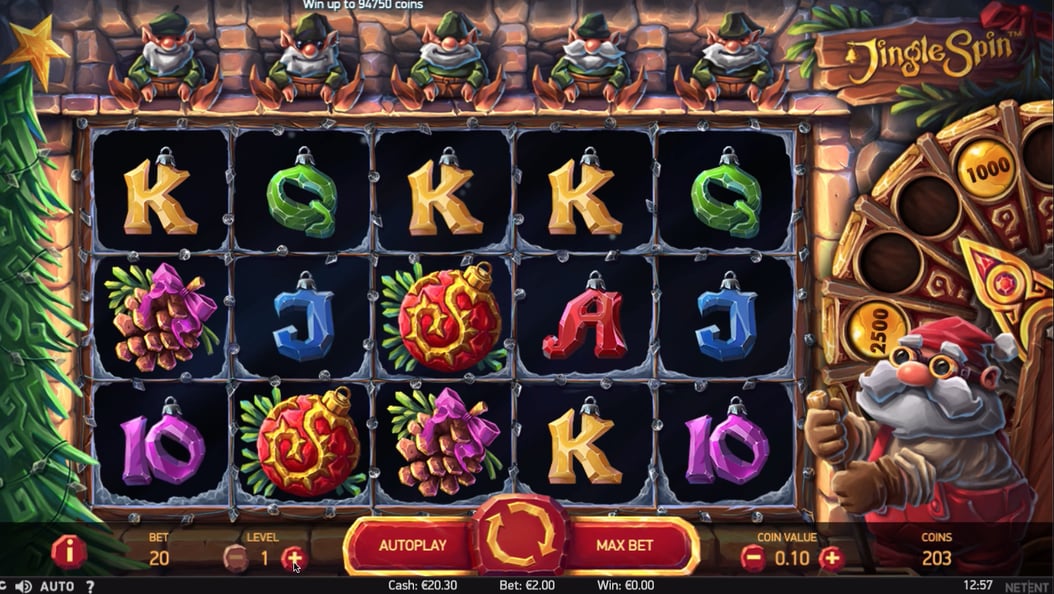 Bet 1: I wanted to increase the bet level but take down the coin value while still betting €2. I took up the bet-level to 10 and took down the coin value to €0.01 making the bet a total of €2. On this bet, I received €1.5 back into funds! Whoop Whoop
Bet 2: I decided to take down the bet level from the standard €2 to a little bit more comfortable level. I went down to a bet level of 4 while keeping the coin value at €0.01 making the total bet €0.8. No win.
Bet 3: No win
Bet 4: I felt like it was necessary to take down the bet slightly further down. Bet level 3 with a coin value of €0.01 gave a total bet of €0.6. No win
Bet 6: a small €0.15 win. At this point, I started thinking about the different Christmas bulbs moving on top of the reels and what they do. I figured out that if they land on a reel where a wild is, whatever says on the Christmas bulb is given to the player – in this case, me!
To see if I got a Christmas bulb with Free Spins or multipliers check the video below! And if you want to play some fantastic Christmas-themed slot machines this winter, sign up to 666 Casino by claiming the welcome bonus here.
Flowers – Christmas Edition
The second Christmas slot machine I decided to try out is "Flowers – Christmas Edition". Yet another video slot from game developer NetEnt. This is a slot machine that already exists in a non-Christmassy edition. The game is built up by the classic 5-reels/3-rows. There are stacked wilds, chances for free spins, and something called double symbols.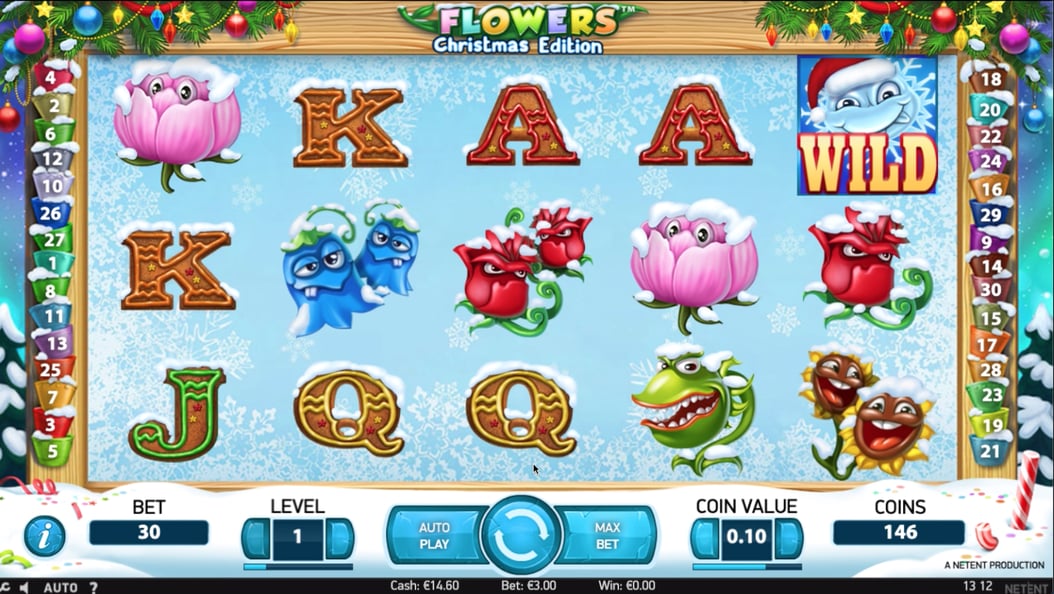 Bet 1: First I took down the coin value to €0.01 and kept the level at 1 meaning a total bet of €0.3. I spun and I won. Thanks to two wild symbols I got a win of €1.55, fantastic!
Bet 2: No win
Bet 3: No win, but I have to say that the symbols of Classic casino symbols here disguised like gingerbreads and pretty snowy flowers made me strangely hungry and happy.
To see if I made any bigger wins or ended up eating the screen watch the video at the end of this post. If you want to try this fun game, you can do so here! Sign up today and claim a wonderful welcome bonus!
Deck the Halls
The third and final slot machine I decided to give some of my Christmas attention to is this Quickfire – Microgaming slot. NOTE: this is a flash game, meaning that you need to activate your flash to get the game to work.
The game is as our previous games built up by 3-Rows and 5-Reels. The symbols are made up of classic Christmas symbols, turkeys, reindeer, stars, and Christmas trees all give us players the chance to win the big wins.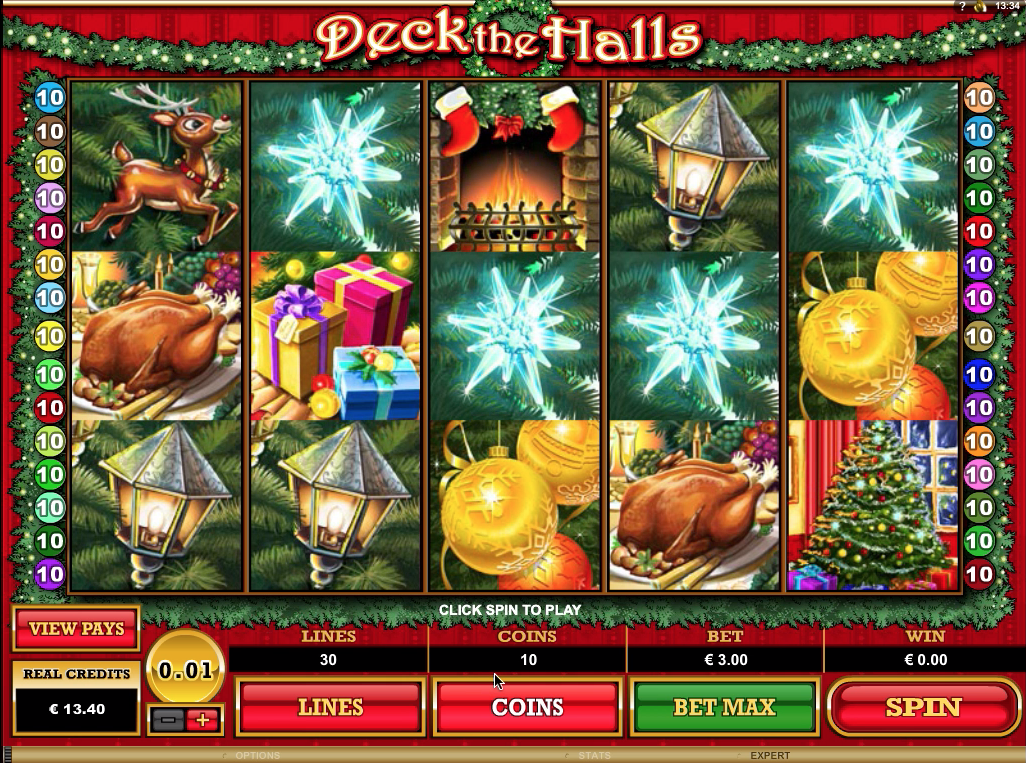 Bet 1: I decided to take the bet lines from the original 30 lines which the games automatically start with to 8 Lines I also choose to take down the coin level from 10 coins to three making my bet €0.24. I won €0.15.
Bet 2: No win
Bet 3: Two bells in combination with some Christmassy cones gave me a €0.63 win. If I would've gotten one more bell, I would've triggered the Free Spins! Unfortunately, that was not the case, but I was happy for the small win I made.
Bet 4: No win
Bet 6: Spun three "Deck the Halls" symbols which doubled my win making it the biggest win of the day. €3 cashed in!
To see if I broke this record check the video below!
In the video above you can see how the three different games look and feel, how much I've won or rather lost and see if I managed to trigger any special features.
Christmas-themed slot machines are a great way to get into the Christmas spirit. They are usually colourful and fun but keep the thrilling sensation by offering some fun and special features. I definitely recommend trying some out during this holiday season!
Join 666 Casino today to claim the match-up bonus and free spins!
Free spins is something everyone loves, if you want to find the best free spins bonuses at some of our favorite casinos, then you should give our Free spins page a visit here!