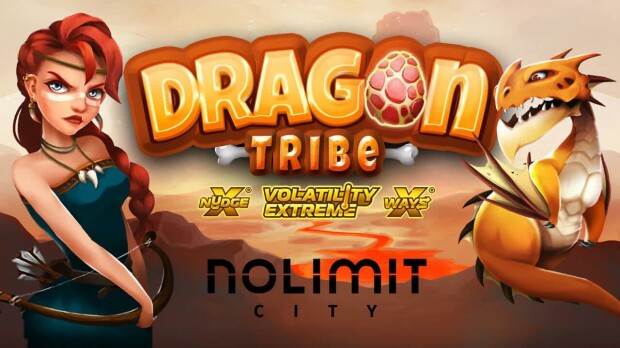 Dragon Tribe slot review

Mats

Published 09/06-2020
Imagine a faraway land with mysterious and dangerous dragons. Now imagine 736 ways to win and all of this while visiting your favourite online casino. It sounds like we are talking about a Game of Thrones type of game but we are not. We are talking about a brand-new slot machine called "Dragon Tribe". This is one of the hottest game releases of 2019 coming from the Swedish game developer Nolimit City.

NoLimit City has been a part of the gambling industry for over 10 years, their offices are located in Stockholm Sweden. The developer is behind classic slot games "Barbarian Fury", "Harlequin Carnival", "Punk Rocker", "Poison Eve", and "Tombstone". This is just a small selection of their fantastic video slot inventory. Nolimit City is proud to be licensed by both the UK gambling commission (UKGC) and the Malta Gaming Authority (MGA). These regulatory authorities are two of the strictest regulators in the industry, meaning that Nolimit city adheres to strict regulations in their games which is great for us players who are searching for honest and trustworthy games.
"Dragon Tribe" was released back in December of 2019, and it is a game that caters to both new and experienced players. "Dragon Tribe" is set near a volcano which is about to erupt with big wins. This video slot offers loads of new features such as the Xnudge Wild and Xways Mystery Symbol. In this review, we will deep dive into everything about this video slot. From some the special symbols to the many special features, this game has to offer. If you want to become a part of the dragon tribe then read along.
Details
This slot machine makes use of a fantasy theme complete with dragons and a shieldmaiden. In front of the "Dragon Tribe" game screen, we see a bunch of gold coins, which could become yours if the dragons let you into their tribe. In the background, we see an animated volcano which looks like it is about to erupt at any second and it will if you manage to trigger the free spins. The "Dragon Tribe" slot doesn`t have the standard 5x3 video slot build-up. Instead, it has 6 reels with 4 rows. Which we at FindFairCasinos enjoy, as it gives the game a different feel compared to the common 5x3 build up.
The base game in "Dragon Tribe" has a cascading reels system, similar to the one used in the "Reactoonz" slot, a game we have reviewed and which you can read about here! The cascading reels system is pretty simple once you get a win those symbols disappear and new ones take their place. The fact that some symbols are exchanged while others stay the same means that the game is set up in a way that helps you create more wins. This can get pretty crazy during the free spins, but more about that later in the review.
"Dragon Tribe" is a video slot with high volatility which means that it sometimes can take a bit of time before you get a win, but when they come they are usually quite substantial. "Dragon Tribe" has a standard RTP of 95.97% which means that if you on average play 100€ you will get 95.97€ back. "Dragon Tribe" slot also has a huge span in terms of bet size, where the minimum bet for this game is 0.2€ and the maximum is a staggering 100€ per spin, this means that every player can find a bet size in this game which fits their playstyle, both new and experienced players.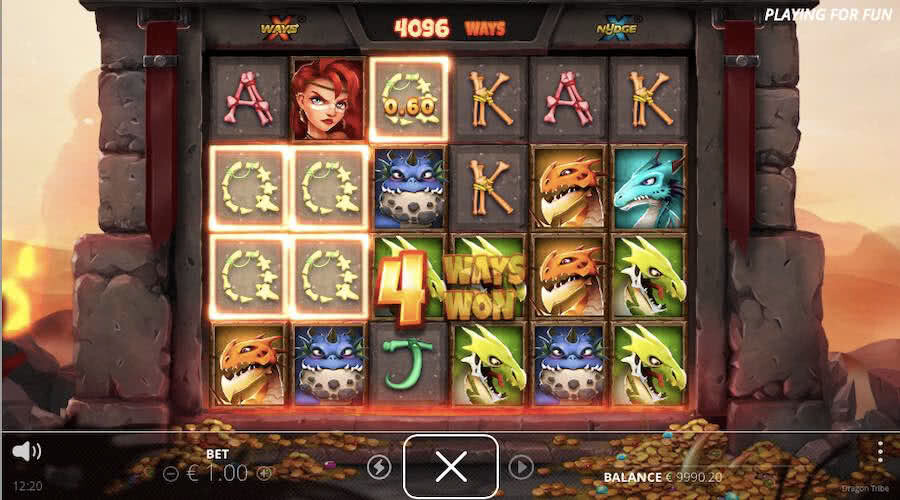 Play on the go!
The game supplier has made sure to make all of its games available across all devices. Nolimit City produces its games on a html5 platform which allows the player to access "Dragon tribe" on their smartphone, tablets and on all desktops regardless of browser. The best thing is that there is no need to download any extra programs in order for it to work.
Symbols
The symbols used in the "Dragon Tribe" slot are the same symbols used in many other great video slots. "Dragon Tribe"makes use of the classic symbols such 9, 10, J, Q, K, and A. These symbols are the low-value symbols they can give up to 0.2x-1.5x the bet. The high-value symbols are the more interesting symbols. These are represented by five different dragons (members of the dragon tribe) and their awesome female leader/shieldmaiden, where the latter is the highest paying symbol in the game.
Dragon tribe has 4096 pay-lines in the base game, but this can also get increased with the Xways mystery symbol. In addition to this special symbol, there are also Dragon Wilds and Dragon Spins symbols. What these special symbols can do and how they can contribute to your wins will be explained in the next section.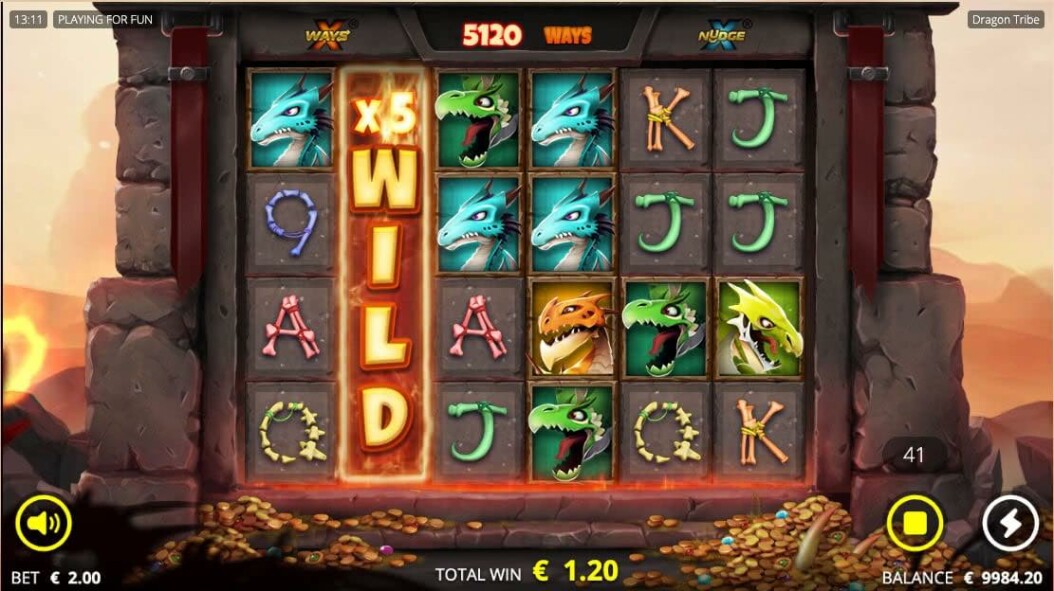 Bonus Features
Nolimit city has made sure to jam "Dragon tribe" with special features and free spins. It is these special features or so-called bonus features which make this game interesting and thrilling and makes players come back for more. In this section, we will go in-depth on what the different features mean and how you can trigger them.
Cascading Reels
As previously said this slot machine offers cascading reels. This gives all players the chance for bonus wins after each winning spin. Every time the player spins a winning spin the symbols that make up the win will explode and give way for new symbols that can combine with the other symbols on the gameboard. If a new winning combination is made then these will explode. The feature continues until no new wins are registered.
xNudge Wild
"Dragon Tribe" set itself apart by not only offering one wild symbol but two. The first of these is the xNudge wild which is depicted by a dragon egg in this game. As a normal wild, it will substitute for all symbols except the bonus symbol. In addition to this, the symbol comes with a multiplier. The symbol will land on a reel and then drop down, each time it drops down a multiplier is added. This symbol can multiply a maximum of 6x. It is, therefore, beneficial to spin an xNudge Wild as high up on the reels as possible. It is also worth noting that this symbol can only land on the middle 4 reels meaning reel 2, 3, 4, and 5.
xWays Mystery symbol
When players spin the xWays Mystery symbol, a feature which is all all about getting extra symbols and increasing the number of pay lines is triggered. This symbol is depicted as an X on a square frame. Inside this symbol are two or three hidden symbols. The X can reveal any symbol in the game, except the wild symbol and the scatter symbol. Spinning this symbol will increase the number of pay lines when the Xways mystery symbol is revealed. The reels can expand up to 6 symbols high. When the reels have expanded the ways to win are also expanded. The game goes from 4 096 ways to win to 20 736 ways to win.
Scatter symbol and the two Free spin modes
What most players are looking for in a game is the possibility to receive in-game bonus spins. "Dragon Tribe" offers the possibility for their players to trigger free spins and therefore also win big. The Free Spins are triggered by spinning three scatter symbols or more. If you manage to land three scatter symbols you will receive 10 free spins, but the dragon tribe also can bless you with additional scatter symbols which will give you 3 extra spins, per additional scatter symbol. After this, you have two options to choose, "Dragon spins" and "Dragon Spins Extreme", the last one more volatile than the first. The "Dragon Spins" allow you to potentially win 11.000x your bet on each spin and the "Dragon Spins Extreme" could award you with 27.000x your bet per spin.
The difference between the two free-spin-modes is that in the "Dragon Spins" you don`t get the X ways mystery symbol, which will be available in the "Dragon Spins Extreme" mode. Another awesome feature in the free spins round is that the 5 dragons one by one turn into wilds if you get enough wins. To activate this the player must first get three wins before a dragon turns into a wild, this will also award you with two extra free spins. The free spins are plentiful in this game. Once all the symbols have turned is where you can get some really big wins in the dragon tribe. This is due to the substantial amount of wilds on the game screen and combined with the cascading reels feature this has the possibility to go on for a long time! We like to call this infinity spinning.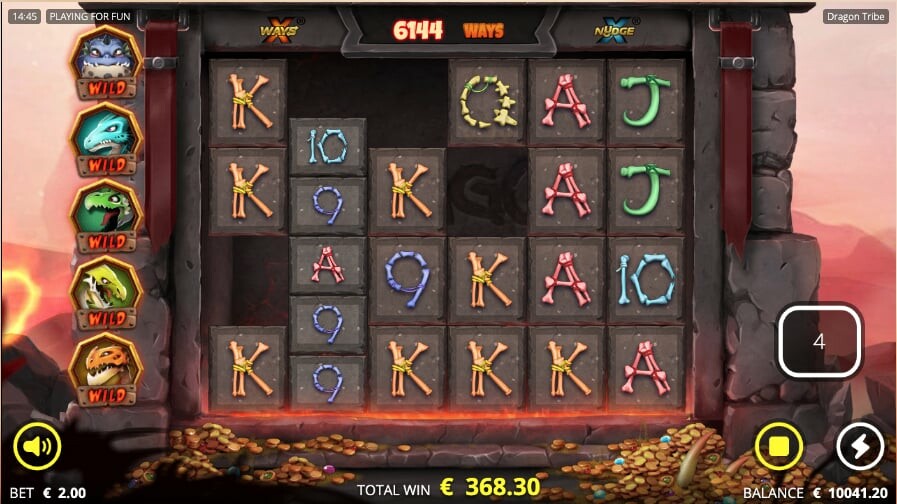 If you want to look at it mathematically then it would be best to pick the "Dragon Spins Extreme"-mode since this bumps up the RTP from 95.97% to 96.06%, but this game mode is also highly volatile so you will be in for a rollercoaster ride when you pick this bonus mode.
Conclusion
"Dragon Tribe" is one of the newer games on the market and it offers players exciting features and bonus spins. Best of all it can give you burning hot big wins if you manage to get into the tribe of dragons. In terms of the graphics and animations of this amazing slot, there is absolutely nothing to complain about. The soundtrack of the game is also great and makes playing very entertaining. The game was made by Nolimit City a highly reputable, and strictly regulated game supplier. They hold both a license from the UKGC and MGA, two of the toughest regulators on the market.
The best part about "Dragon tribe" is that it has some great and innovative bonus features such as the xWays mystery symbol and the xNudge wild. In addition to these features, the feature that probably brings the most entertainment is the free spins feature. That the free spins include the choice between two different modes contributes to the great fun. The fun of the free spins doesn`t just end with the two modes, there is also the possibility of extra free spins if you land enough wins. This can, in the end, give you big payouts with the extra wilds and extra spins. Something we at FindFairCasinos really like.
"Dragon tribe" is a highly volatile game, especially when choosing the more volatile of the free spin modes. This shouldn`t scare new players away. The fact that the bet range goes from very low to slightly high means that everyone can give this game a try.
We would recommend this game everyone who is a fan of big winnings, and dragons of course.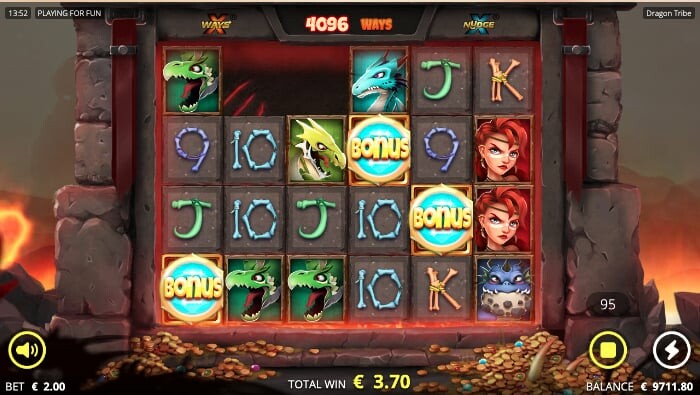 Play "Dragon Tribe" and make the best out of your extra spins in one of these FindFairCasinos recommended online casinos: