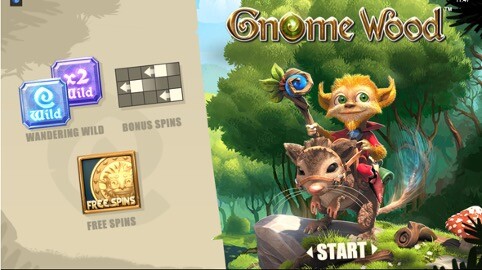 Gnome Wood Slot Review

Mats

Published 03/04-2020
Have you ever dreamt about joining the fantasy world? Floating away to a completely different world, where the sun always shines, and the forest is always green and full of life? Then we have a highly recommended suggestion for you. Gnome Wood is a video slot from Rabcat Gambling which was first released in 2017. The cute gnome with pointy ears wearing a red jumpsuit makes you nothing but happy when he cheers for your game. His companion is a mouse that he rides like a horse and together they will help you reach the pots full of gold. Gnome Wood is known for its fun and exciting features as well as its greats graphics and animations.
Rabcat Gambling is a game supplier that was established in 2001 in Vienna, Austria and is one of the newer game suppliers on the market. The company holds a well-known and respected UK Gambling Commission license. Due to the fact that they only hold one license (reputable as it may), it means that some jurisdictions will not have access to this slot machine. Their platform partners include Microgaming and Quickfire and their operating partners include giants Aspire Global, Betsson, Every Matrix, Bwin and White Hat Gaming. The game supplier is known for slots like "Sherlock of London", "Nikola Tesla's Incredible Machine" and "Robin of Sherwood". It is especially the design that the game supplier is known for.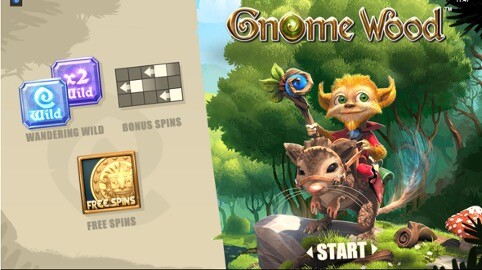 Details
This is not a game that requires a lot of gambling experience or for you to be a pro. Gnome Wood contains all the standard options and features that gamers typical come across in slots. The video slot features five reels and three rows and benefits from 25 fixed pay lines - these pay left to right, starting from the leftmost reel. You need to set the desired coin value before you start hitting the Spin button. The coin value goes from £/€0.01 up to £/€2. Betting (stake+payline) starts at £/€0.25, while the biggest/max bet is £/€50. Gnome Wood is a medium volatility premium video slot and has an RTP (Return to Player percentage) of 96,16%. Low Volatility means that wins are plenty but small while High Volatility means big wins but far between. A Medium Volatility video slot is somewhere in between.
Mobile-friendly
The slot is available for desktop and mobile on web browsers across popular devices. It is a huge plus that the game is mobile-friendly since you then can play it almost everywhere just as long as you have an internet connection. HTML5 technology is used to build this game. This is nice because it not only allows for quality and stunning graphics (the things Rabcat Gaming is most known for) it is also this technology that allows for seamless integration on all platforms from Smartphones to Tablets. Players can play Gnome Wood on the go and experience all its fun features on their smartphones like for example the free spins or wandering wild symbols (continue reading the Game Feature section to learn more).
Symbols
There are two sets of symbols in the Gnome Wood slot machine. The low-value symbols and the high-value symbols. The four rune stones (symbols on a grey background) together with the staff and magic rock are the low-value symbols, the most they can pay are 0.75x the winning bet. The cauldron, Mouse, Gnome and book of spells are the high-value symbols they can give between 2-10x the winning bet at their highest win. The wild also contributes to bigger wins. Land five Gnomes on a pocket and line 1,000 times the bet per line. It is the same for the Wild. If the wild comes with a 2x multiplier, it is possible to pocket up to 50,000 times the bet per line, if you fill your cells with Gnomes and Wilds. Gnome wood slot does not only feature a wild symbol, but it also features a scatter (Gold Coin) these two symbols are involved in the bonus features this game has to offer and will be explained more in detail below.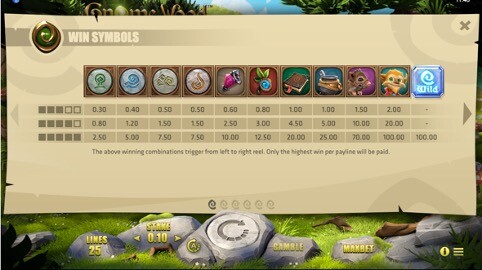 Special Features
Gnome Woods colourful graphics and animations are a huge part of this slot machines popularity but another part which has played a big part if not an even bigger part then the aforementioned graphics is the bonus features. These include a gamble feature and free spins feature.
Wild and Multiplier
The first feature and probably one of the features that players of Gnome wood slot will experience the most is the one regarding the Wild symbol. There are two types of wandering wilds in Gnome Woods. There are the blue ones which are the normal wild, and then there are the purple ones which are x2 wilds. The blue wilds replace any sign in the field, which often allows longer winning combinations. It is important to note that the wilds never replace a Scatter symbol. The purple wilds are as shown by x2 – a doubling wild symbol, where the size of the win increases by 2 times when it appears in a winning combination.
Bonus Spins
The Wild symbols are great for creating big wins but they are also called Wandering Wild for a reason which is not discussed above. It is namely so that whenever a wild symbol lands on a reel a free spin will be triggered. During this bonus spin, all wilds will wander one position to the left - hence their name wandering wild. This feature will continue until the wild symbols have wandered to the first reel. In total, a maximum of five bonus spins can be given unless new wilds appear. If the Free spin feature is triggered during a bonus spin the free spins will be triggered once the bonus spins are done.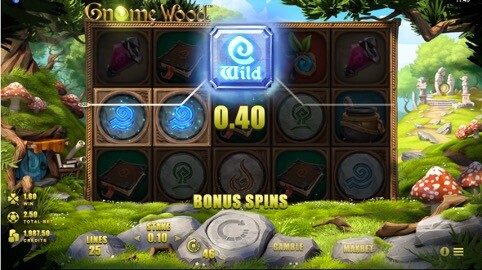 Free Spins
It is possible to trigger 10 free spins by getting three or more scatter symbols. Bonus spins can be activated during this feature awarding the player with additional free spins. It is also possible for players to trigger an additional 10 free spins by spinning three additional scatter symbols. Gnome Wood is, therefore, the perfect slot for players interested in in-game free spins. You can play Gnome Woods and spin these Free Spins at Mega Casino.
Gamble Feature
Not only does Gnome Wood offer wandering wilds and 10 free spins, but it also offers its players the chance to double their wins through a gamble feature. Each time a player wins they get the option to gamble by picking one of two cauldrons. If the cauldron the player picks does not topple over but a magical effect appears then the player has doubled their winnings. Each win can be gambled a maximum of five times.
Pros and Cons
We at FindFairCasinos have listed a few pros and cons of the game to give you a little overview of our opinion.
Pros
+ Amazing graphics
+ The Gnome is very cute and cheers for you
+ Bonus Spins with Wandering Wilds
Cons
– Medium Volatility means that wins are sometimes far between and small
– It is a specific theme for a specific audience
Conclusion
Fantasy worlds are really popular today. Rabcat maybe saw this popularity as a potential for this video slot. To conclude this Gnome Wood game review, we would like to mention some of our favourite features.
The Wandering Wild symbol that not only makes the chance of winning bigger it also activates Bonus Spins and there is a chance of a 2x multiplier. The Gamble Feature which makes it possible to gamble your win up to five times and therefore makes huge wins a possibility with this game. What we at FindFairCasinos really like about this game is that it has entertaining and thrilling game features as well as great graphics. All in all, we think it is a winner that all types of players will appreciate. We will definitely be visiting this magical Gnome Wood to indulge in Free Spins with our friend the Gnome.
If you are interested in playing the Gnome Wood slot, we recommend you play this slot machine at Mega Casino. As a new player, your first deposit will be doubled - meaning more money to play with!