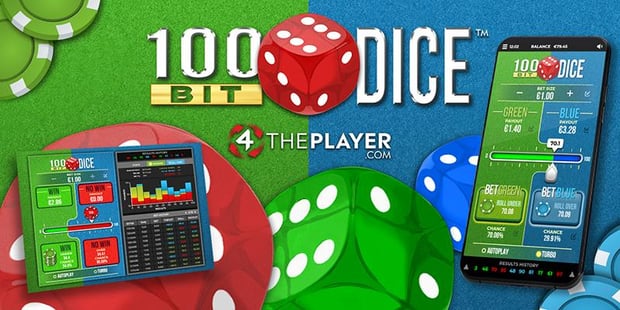 100 Bit Dice released by 4ThePlayer

Jonas Riis Vestergaard

Published 25/11-2019
100 Bit Dice is a crypto themed game from 4ThePlayer. It's their first release and it's expected to offer something different to players who enjoy table games.
4ThePlayer are just a year old and this game announcement will see them create some industry buzz. It comes after they signed a deal with Relax Gaming. This deal will allow 4ThePlayer to release their games through the partner program that Relax Gaming offer.
Game mechanics
The game allows players to place a wager on a dice that has between 0 and 100 on it. You can choose to bet with several different options to give plenty of customisation.
There are also plenty of stats available which will allow players to track their own wagers and attempt to put together the best strategy they can. Up to the previous 500 rolls can be accessed through charts and graphs. The game has an RTP of 98.98% which is higher than the market average. It all comes together to make the game very appealing.
The CEO of 4ThePlayer said that they believe that right now the crypto based gaming market is extremely popular. He says that the large amount of money that is being wagered on these games is incredible and as such it makes sense for them to create the very first crypto based dice game.
Bringing in new players
Relax Gaming were also excited about this new project. They released a statement through their CPO that said they were delighted to have helped to bring this game to the market. Because 4ThePlayer have spent a great deal of time and energy putting this product together they are confident that it will be appealing to players of all times. They are happy to be able to offer their customers the chance to get access to a brand new concept.
Old heads in the game
4ThePlayer might be a new name on the block at the moment, but that doesn't mean they are newcomers to the market. The founders of the company, Chris Ash and Andrew Porter, have been working in the gaming industry for a long time. Between them they have been working within the industry for over 40 years.
They have worked at high positions within other gaming companies and have managed many successful titles over the course of their careers. The new company first came to the forefront when Yggdrasil announced that they had signed as one of their studio masters partners.