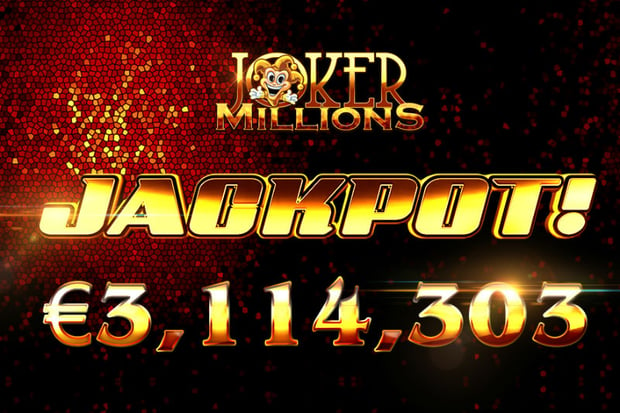 €3 Million Jackpot Scooped by Casumo Player

Mathias Jensen

Published 06/10-2019
When you hear "progressive jackpot slot" you typically think of games like Mega Moolah, especially if those words are being used in combination with words like "record". However, this isn't the only headline-making, record-breaking jackpot slot out there right now. In fact, a progressive jackpot slot from Yggdrasil Gaming is increasingly winning the plaudits and it recently hit the headlines again when it paid a €3 million jackpot to one lucky player.
The slot in question is Joker Millions and the win came courtesy of Casumo, a casino that has been praised for its unique design and its game-changing approach to loyalty programs, with video slot leaderboard promotions, daily challenges, and other extras.
This win was the third time that a sizeable sum of money has been released by Yggdrasil Gaming on one of their popular progressive jackpot slots.
The Win
The lucky player hails from Finland and is said to have been gifted a sum of €3.04 million in total. That's a lot of money, we're sure you will agree, but the most impressive thing about this win is that it occurred following a bet of just €0.50! 50 cents and 1 spin, that's all it took for this player to change her life for the better.
This win comes less than a year after a €7.8 million jackpot was released. What's more, a win in April went as high as €14 million, which means this growing gaming company has awarded nearly €25 million worth of wins in just under a year.
The CEO of Yggdrasil commented on this amazing statistic to say that they were "delighted" with the payouts, calling it a "dream come true" and announcing that they were also delighted with the fact that the recent win occurred at Casumo, one of their biggest partners.
Casumo Claims
Yggdrasil games aren't the only ones triggering big windfalls and changing the lives of players around the world. Casumo Casino has captured the attentions of many news sites in recent months as well. In May, they announced that 29 players had won big jackpots, with a "big jackpot" defined as any win in excess of 10,000x. This may not be as high as the 6 million multiplier that the Finnish player scooped, but it's impressive nonetheless.
The biggest win of May came on the Mega Fortune Dreams slot, when a player bet just €0.40 and scooped an astonishing €238,000. It's the sort of win that every player dreams of, and it's one that becomes a reality for a handful of players around the world every single month.