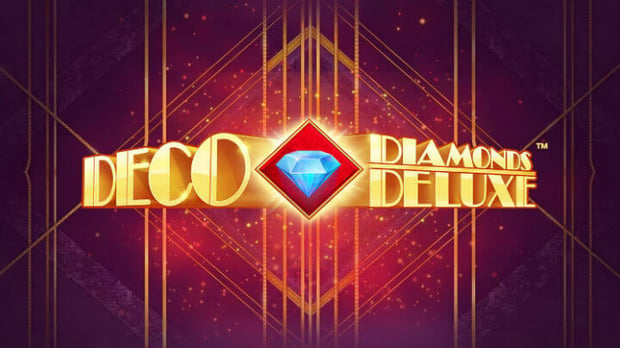 Another Release for Just For The Win and Microgaming

Jonas Riis Vestergaard

Published 04/11-2019
A few weeks after launching the Tweet Hearts video slot, Just For The Win and Microgaming have joined forces yet again, this time for the release of 9-payline slot Deco Diamonds Deluxe.
The Deco Diamonds Deluxe slot was announced in an official press release, published by the Isle-of-Man based Microgaming. This release stated that the game would feature an art-deco aesthetic and would be set in the early 20th century, when this style was at its most popular.
What to Expect
Deco Diamonds Deluxe features a high-volatility setup and takes players back to the style and glamour of the 1920s, with reels encrusted with diamonds and a soundtrack that explores the music of the era. Deco Diamonds Deluxe will be mobile friendly and it will include a sizeable Wild symbol, one that can trigger a Re-spin feature as well as a Bonus Wheel, and numerous chances for players to win big.
Deco Diamonds Deluxe is the second game in the Deco Diamonds series, the first of which hit games rooms around the world in 2018. Deco Diamonds Deluxe includes many of the same features that made this title popular, but with a few additions worthy of calling it a sequel.
The Respin feature is one of the biggest on this slot. Players can secure 1 Respin for every two Wilds that appear. These spins will lock the Wild symbols in place and spin all other symbols, giving players a chance to win big and to unlock even more Respins.
A Captivating Sequel
A spokesperson for Microgaming stated that Just For The Win had built a "captivating sequel" in Deco Diamonds Deluxe, noting that the game's Symbol Nudge and Just for the Boost features helped to set this title apart and make it the perfect addition to the Microgaming portfolio, which is one of the largest in the iGaming industry.
The CEO for Just For The Win also commented on the launch of Deco Diamonds Deluxe, pinpointing the game's Bonus Wheel, which features 3-tiers and can be triggered when three of the game's Scatter symbols appear. This, he said, gives players a chance to secure "ever-increasing wins" of up to 1,000x.
He added that Deco Diamonds Deluxe was a "glamorous" slot that combined all the "charm and excitement of the jazz age".