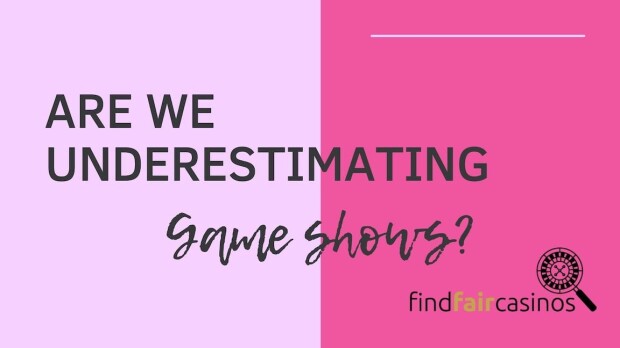 Are we Underestimating Game Shows?

Mats

Published 30/11-2021
Game shows occupy an unusual place in the public's collective consciousness. On the one hand, they're throwaway, middle-of-the-day fodder for folks that are stuck at home yet, on the other, they're beloved parts of our upbringing. The very nature of game shows means that they are tame, safe, and non-experimental parts of entertainment, which can be a turn-off for people who are more used to video games or any of the many crime shows that populate streamed media.
Within casino gaming, game shows are a bit of an unsung favorite for regular players. Much like Jeopardy!, The Price Is Right, Wheel of Fortune, Family Feud, and plenty of other American institutions, online game shows tend to have a human host who controls whatever game board (or wheel) is currently in play. Of course, this is different from the standard slots, blackjack, roulette, etc., as these are normally overseen by random number generators and all sorts of other technology.
The software developer Evolution has a large number of game shows on its roster of casino experiences. These can be found on the SuperSeven website, which is a part of the niche of online casino Canada and a site that doesn't require a deposit to try out its games. SuperSeven has more than ten different game shows, which range from games people might find on TV to rare representations of classic casino hobbies like Sic Bo. This is an evolving part of modern entertainment, too.
Gonzo's Quest
While Evolution's Craps, Lightning Dice, and Lightning Baccarat will be familiar to just about anybody who has ever played a casino game, Mega Ball, Cash or Crash, and Dream Catcher offer a twist on related games like lotteries. Recently, Evolution has also started pairing up with well-known franchises to attract much the same fanbase to their games. So far, Monopoly and Deal or No Deal have been introduced to players in this way.
Yet, as mentioned, game shows tend to go unmentioned, with Dream Catcher and similar wheel-based games the only ones to ever show up in surveys of the most popular casino games. Of course, cards, dice, and slots games take up most of the places on these mostly unscientific lists but there's a possibility that this could change in the future due to Evolution's experiments in crashing two (or more) games together.
Gonzo's Quest is one of the most well-known slots games in the world and, for that reason, it's also the most likely to undergo some kind of modification. We've already seen this game rendered in virtual reality, for instance. Described by Evolution as the world's first casino title to meld slots and live gaming, the new game show Gonzo's Treasure Hunt leads players on a quest to uncover stones and the possible prizes beneath. Unusually for a slots game, the player is chaperoned by a live croupier.
While definitely a less well-known part of casino gaming, game shows are experiencing a bit of a renaissance among players and developers alike.