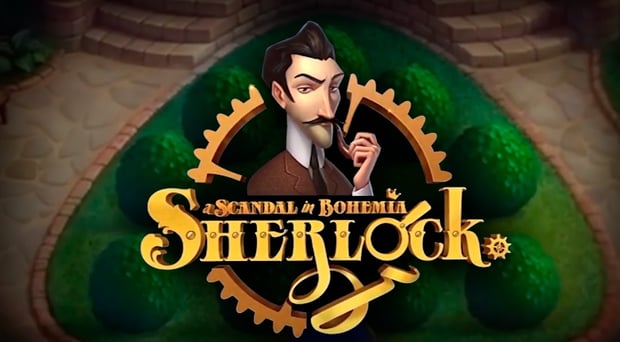 Assume the Role of a Famous Detective in Sherlock: A Scandal in Bohemia

Mathias Jensen

Published 15/04-2019
Sherlock: A Scandal in Bohemia is a brand new slot that has just been announced by Tom Horn Gaming. The is a 5-reel 25-payline video slot that follows a fascinating tale in which the legendary fictional detective, Sherlock Holmes, is hired by the King of Bohemia to search for a very important photograph.
This could be one of the detective's most important cases yet, and the onus is on the player to help him arrive at a successful resolution.
What to Expect
Sherlock: A Scandal in Bohemia takes place on the streets of London, where Sherlock Holmes is at his very best. There is a beautiful backdrop and many relevant symbols, all of which help to paint the perfect picture and to immerse players in this fascinating story.
There are a couple bonus features on Sherlock: A Scandal in Bohemia, one of which is the Newspaper Bonus round, which is unlocked with three to five bonus symbols of the same name. This bonus feature tasks the player with finding the all-important photograph. They can unlock a host of big prizes as they search, but if they fail to find the photograph then the feature comes to a disappointing end.
The is also a feature based around the King of Bohemia himself. This feature, just like the Newspaper Bonus, is unlocked with three, four or five symbols and it takes players to a round where photographers are trying to snap photos of the king. The round ends as soon as they stop appearing, but in the build-up to this non-event players are given a chance to scoop lots of big wins.
More to Come
Sherlock: A Scandal in Bohemia joins a huge portfolio of casino games created by Tom Horn Gaming. This includes their most recent release, Frozen Queen, which they announced just a few short months ago.
Frozen Queen escorts players to a land of snow, ice, wonder and magic. It's as immersive and as impressive as the world they created for their latest Sherlock Holmes title, but it has a few different features and payouts that help it to standout on its own.
These games may be joined by more top titles in 2019, as Tom Horn Gaming look to expand upon their roster of video slots and give their many fans something else to get excited about.