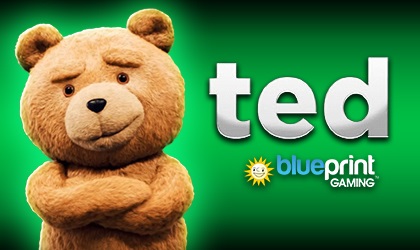 Blueprint release a new Ted video slot

Jonas Riis Vestergaard

Published 10/12-2019
Blueprint have been very busy as the year draws to a close. After releasing their slot based around the classic British movie series, the Carry On movies, they have dipped into another big screen property for their newest release. Ted is to be under the Jackpot King series and will feature 20 ways to win.
In a press release from earlier in the week, Blueprint Gaming offered lots of details about the new title. They said that it would be based around the movie, which came from Family Guy creator Seth McFarlane, about the talking bear. What really set it apart from previous games featuring Ted was that it would include a progressive jackpot because of the Jackpot Kings link up.
Releasing more new games
Blueprint Gaming are pushing their Jackpot King series quite hard at the moment. This is because it's been a success, partly due to the big wins that it has already generated, but also because it's been linked up with some big licensing deals. Both The Naked Gun and The Goonies have titles in the series already.
Bonus features included
The new Ted title will be fully compatible with mobile devices and will offer players five different features on top of the base game. It's expected to grab the attention of players right away with the signature humour that comes directly from the movie itself. There are also the two jackpots on offer which can make players incredibly rich.
Spreading in different directions
The Marketing Director of Blueprint made a statement about the instant success of the Ted game. She said that it was already the most successful title that is based on a licenced property. This is partly due to the instant recognition that Ted offers, but also the fact that large wins are available through the game. She also said that they were happy to have release the new title and hoped that it would continue to prove popular with players.