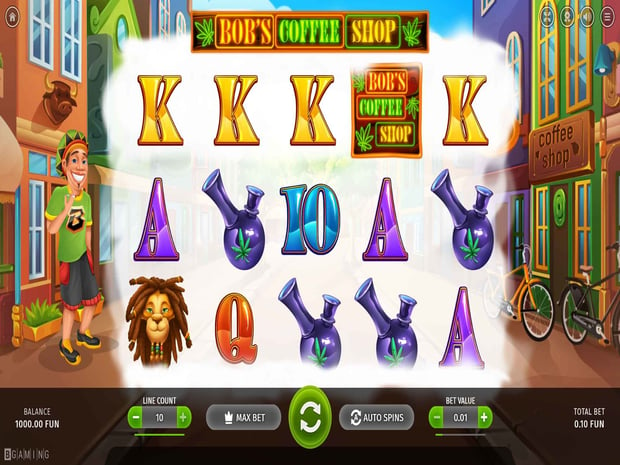 Bob's Coffee Shop: a Unique Slot Game from Bgaming

Mathias Jensen

Published 05/01-2019
Back in October, Bgaming announced a new online slot game based on a unique theme. Bob's Coffee Shop is a 5 reel, 10 pay line slot game created based on its main character, Bob. A funny guy, Bob is a fan of reggae and brings a fun feel to the game. Enjoy relaxing background music, with Bob and his friend the Lion, giving players a unique gameplay experience.
Reggae Vibe
Bob's Coffee Shop is less about coffee and more about a good time. The game includes a reggae vibe with Bob and his friend the Lion dressed in bright colourful clothing paired with dreadlocks. But Bob and the Lion are not the only symbols players will find on the reels, a bong, as well as lips with what appears to be a joint between them, also appear during spins. Find five symbols of either the lips or the bong and earn a payout of 1,000 coins.
Bob and the Lion is the most lucrative with a five of a kind combination. Five Lions will pay out 2,000 coins, while five Bob symbols will provide the largest jackpot of 5,000 coins. Additional symbols on the reels include the 10, Jack, Queen, King, and Ace, each offering payouts for three, four, or five of a kind.
The new online slot includes an auto-spin setting. Players can choose to preset 10 to 1000 rounds in the game, setting the option to stop with any win or if a single win exceeds a set amount. Set the number you desire or choose to select the game's Peace Sign yourself to begin spinning the reels.
Bonus Features
The Signboard of Bob's Coffee Shop is the Scatter in this game. Three or more of this symbol provides bonus spins containing a special symbol. Players earn 10 bonus spins when the scatter shows up three times or more. When five Signboard symbols appear on the reels, players will earn an easy 1500-coin payout.
Play this slot at one of these Casinos: