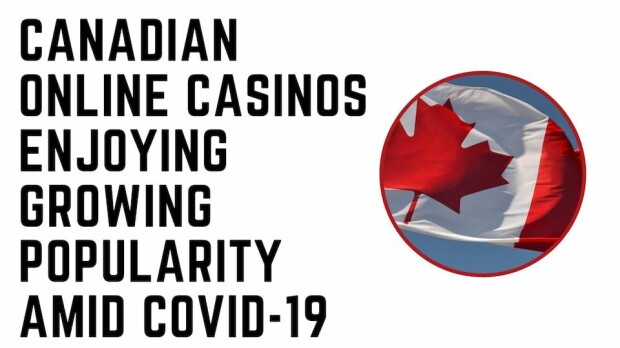 Canadian Online Casinos Enjoying Growing Popularity Amid COVID-19

Mats

Published 01/06-2021
Search interest for online casinos in Canada has skyrocketed since the coronavirus pandemic began, a new study by research firm Abacus Data, has shown. The Ontario-based institute polled 1500 Canucks May last year in regards to their betting habits and the results are out.
Not only are Canadians gambling more often than they did pre-coronavirus, but they are also spending more money than they usual. The explanation, according to Trudy Quosai of the Gambling Research Exchange (GREO), is that Canadians are experiencing increased anxiety caused by the pandemic.
All the same, below is a breakdown of the poll result showing the demographics gambling more often, the games they play and their reasons.
78% of Recipients Have Never Gambled Before
Up to 78% of Canadians polled by Abacus Data started to play online casino games around March last year—the period when COVID-19 hit Canada. Out of the remaining group, 9% of players normally gambled a few times a year while only 1% of the recipients reported gambling every day.
In light of that information, the coronavirus is directly linked to the growth of online gambling in Canada. It's responsible for close to 80% new gamblers and has led to usually inactive players to gamble more regularly.
Which Groups Gamble the Most in Canada?
Interestingly, the growth of online casinos amongst Canadians has affected men and women in near equal measures. For example, 73% of interviewed men claimed they had never gambled online before coronavirus. Likewise, 82% of women were new to gambling.
Among regular casino players, 10% of men usually wagered a few times a year while 8% of women had the same experience. Likewise, 4% of men usually gamble a few times a month while 3% of women did the same.
Surprisingly, the number of post-COVID versus pre-COVID gamblers isn't so different in terms of age. Many young adults, who make up the largest demographic of online gamblers in many countries, also seem to have developed an interest in the industry last year.
Precisely, roughly 73% of new online gamblers aged between 18 and 44 years had never tried slots and table games before last year. Now, thanks to casino websites in Canada, they can play both slots and table games at hundreds of safe casino sites.
That said, online gambling isn't limited to the youth. Indeed, a significant percentage of people gambling online during the pandemic are of ages between 45 and 60+.
Which Provinces are Gambling the Most?
Alberta and British Columbia have the highest number of new online gamblers in Canada according to the study. This isn't surprising. These two provinces also had the highest number of people who identified as pre-COVID gamblers.
In Alberta, 11% of the interviewees said they usually played casino games or wagered on sports a few times a day even before Coronavirus hit the country. In B.C., 19% of the population either gambled daily or a few times a week.
In Ontario and the Atlantic Provinces, most people didn't usually gamble daily. But a small fraction often played casino games a few times a week, nonetheless. The remaining population only began to play casino games or bet on sports on their devices after the country went under lockdown.
Which are the Most Popular Casino Games in Canada?
This is a common question in Canada. Abacus now have the right, researched-based answer.
• Online casinos
• Online Sports betting
• Online Poker
• Horse race betting
Online casinos are much more popular than poker and sports betting. Middle aged players of between 45 and 59 years are the biggest casino fans, more so players from Saskatchewan, Ontario and B.C.
By comparison, sports betting is common among men aged between 45 and 49 years and those between 18 and 29 years. Alberta, Ontario and the Maritime provinces are the most popular places among sports gamblers.
When it comes to poker, the largest group of players fall in the 18 to 59 years category. Manitoba leads the way, with 62% of polled recipients saying they bet on the game regularly. Ontario ranked second while the Maritime provinces ranked third.
Does Canada have an Online Gambling Problem?
Although mobile casinos have mushroomed in Canada since early 2020, they've not won over Canada yet. Based on the data collected by Abacus, only about 5% of gamblers say they've been gambling more than usual.
Roughly 10% of casino players have been spending more or less the same amount they played with before coronavirus. On the other hand, about 6% of wagerers have been spending less money.
The largest group of Canadians, 76%, have never identified as gamblers. They were not casino players before Coronavirus came and they didn't take an interest in online gambling thereafter.
In other words, most of the people who've been gambling more often nowadays also gambled before the pandemic, just not in the same way. Specifically, 22% of casino players in Canada have increased the time and money spend gambling.
Thirty one percent are spending the same amount time at casinos while the rest have either decreased their budgets and time or have not interest in the industry at all.
How Many People are Opening New Casino Accounts?
Unlike the UK, where a BBC report showed people were joined online gambling in droves last year, only 6% of Canadians have opened new gambling accounts. The remaining 94% of the population either owned an account before the pandemic or was never interested in one.
Among the small group of new gamblers, 10% of them are youngsters between 18 and 29 years while 7% are aged between 30 and 44 years. Manitoba and Alberta have the largest number of new casino players while B.C. and the Atlantic provinces rank last at 4%.
In case you're wondering; the house (casinos) wins 46% of the time. An astonishing percentage of players (44%) claim they break even—they are able to recoup their losses. Lastly, 10% of people polled claimed to have a winning record. As the pollster says, though, most people tend to exaggerate their profits and understate their losses.