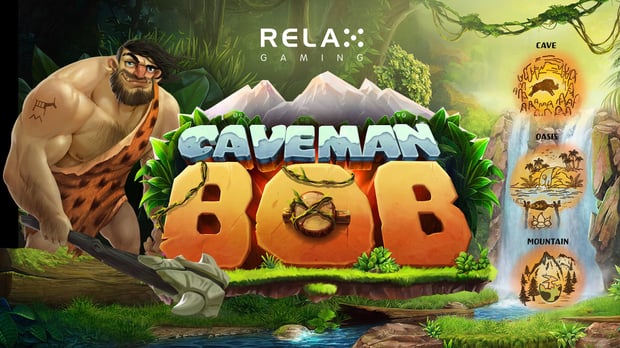 Caveman Bob Slot Launched by Relax Gaming

Mathias Jensen

Published 09/05-2019
Relax Gaming have just expanded their video slot portfolio even more following the launch of Caveman Bob, a slot that takes place in the prehistoric age and is centered around the titular club-swinging early human.
Caveman Bob takes place in a cave and on mountains, showcasing the variety of this era. The symbols include all kinds of animals and fauna, including a woolly mammoth and a fierce wolf. These symbols begin to payout when at least three of them land on a single payline and they all pay much more than the traditional playing card symbols that also feature on the reels.
What to Expect
There are three different locations to explore on the Caveman Bob video slot, as the titular character travels to several beautifully designed areas.
In addition to the big paying symbols mentioned above, this Relax Gaming online slot also comes with a random wild feature and a collectible feature. It is this collectible feature that changes the backdrop, as players are tasked with collecting different items depending on the location they are in.
The three locations that players will be tasked with exploring include a cave, which is where Caveman Bob is most at home. There are stalactites in the cave that trigger a unique wild feature and players move on when they capture a hog. When this happens they will be transported to an oasis, where Bob begins to fish and where a feature involving fire embers can be triggered at random.
If players catch a fish then they will move to the final location, a mountain. There is a pterodactyl on this mountain and if players can take one of its eggs then they will trigger a unique feature. There is also a Wild Blizzard feature to make the mountain peak one of the most desirable areas in the game.
These multiple locations add a lot of variety to the game and is sure to go down well with players. Fans of Relax Gaming will also be happy with the many features that this game includes, as well as the big wilds and symbols.
An Expanding Roster
A spokesperson for Relax Gaming commented on the release of Caveman Bob by noting how proud they were of the game and of their in-house team for creating it. They pointed out the "immersive game worlds" and "exciting mechanics" as being particularly noteworthy, before adding that they have already received a lot of positive feedback for the game and expect it to do really well.
Caveman Bob will be joining several other titles that have been launched by Relax Gaming in recent months, including the Egyptian themed King of Kings, which takes players back in time once more, this time to the world of ancient Egypt, a world populated by kings, queens, gods and amazing treasures.